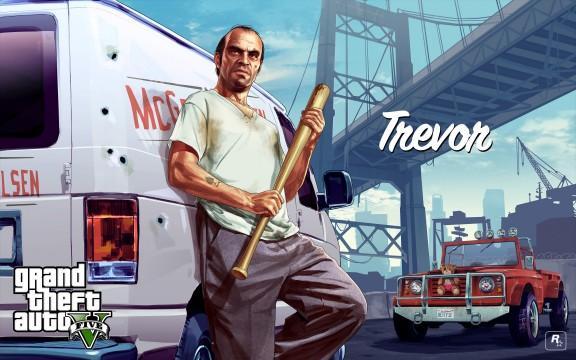 Trevor Philips is one of the three playable protagonists in Grand Theft Auto V.
The less said about Trevor, the better. A former airman, career criminal, and Michael's old best friend and partner in crime, Trevor is a mentally unstable drug addict, now living in a trailer park full of meth heads and biker gangs in Sandy Shores, Blaine County.
He founded "Trevor Philips Enterprises", which mainly deals with weapons and drugs. He is the designated pilot of the team.
Trevor has been described as a difficult person to deal with: extreme, impetuous, vengeful, psychopathic, unhinged, unpredictable, untamed, infamous, homicidal, and prone to violent outbursts and destructive rampages.
As a sociopath with a short fuse - Trevor's Special Ability sends him into a rage, causing double damage to enemies while only taking half as much damage himself when hit.
He also appears as a mission giver in GTA Online.
Trevor Philips: Character Info
Gender

Male

Nationality

Canada

Location

Trailer, Zancudo Avenue,Sandy Shores (Blaine County); Vanilla Unicorn (Strawberry)

Occupation

Armed robbery; Gun running; Drug dealing; Trevor Philips Enterprises

Also Known As

T; Trev; Boss

Performer / Actor

Steven Ogg

Family

Affiliation

Civil Border PatrolFranklin ClintonMichael De SantaRon Jakowski Trevor Philips Industries

Property / Safehouse

Trevor's TrailerFloyd's ApartmentVanilla Unicorn

Playability

Story Mode

Director Mode

Vehicle

Red

Trevor Philips Enterprises
Trevor Philips: Appearances
Game Edition

GTA Online GTA V Story Mode

Platforms

PC

PlayStation 4

Xbox One

PlayStation 3

Xbox 360
As Protagonist (Playable)

Trevor Philips Missions in Grand Theft Auto V:

Appearances in Story Missions:
Trevor Philips Screenshots
Trevor Philips Artworks
Trevor Philips Video