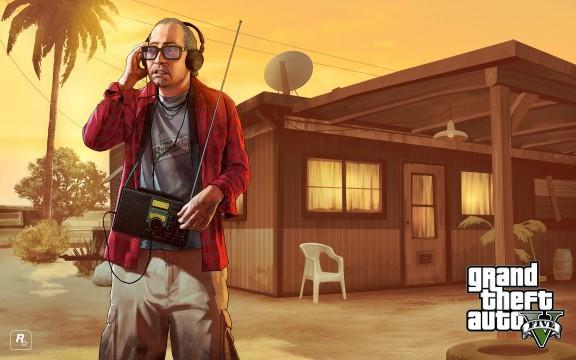 Ron Jakowski appears as a Major Character and Companion in Grand Theft Auto V, as well as a character in GTA Online.
"Nervous" Ron Jakowski is Trevor's timid, paranoid friend and next-door neighbor in the Blaine County trailer park where he lives.
Ron Jakowski is a paranoid conspiracy theorist, entrepreneur, and podcaster, being the host of a podcast on the Blaine County Radio Community Hour on Blaine County Talk Radio. He describes himself as an "independent thinker" who lives in Sandy Shores to be "away from the man".
Ron is Trevor's right-hand man, but is terrified of him, thus going to great lengths to appease him. He helps him out with several tasks, such as sneaking around the Lost MC's base to plant explosives, or procuring him weapons and vehicles when needed.
Ron also appears in GTA Online, giving the player missions to complete for Trevor Philips Entreprises, or calling to remind about Crate Drops. He also appears during the Series A funding heist, being seen at the end of setup missions or providing information through Earpieces. In 2017, during the events of the Smuggler's Run update, he secures a partnership with the Online Protagonist in the contraband smuggling business.
He returns once again in GTA Online with the Los Santos Drug Wars update, as a member of the Fooliganz group. He invites the player to join the troupe and take part in the psychedelic missions "First Dose".
Ron Jakowski: Character Info
Gender

Male

Nationality

United States

Location

Sandy Shores, Blaine County

Occupation

Accountant (formerly); CEO of Trevor Philips Enterprises; Host of Blaine County Radio Community Hour; Hangars

Also Known As

Ron; Ronnie

Performer / Actor

David Mogentale

Property / Safehouse

Trevor's Trailer

Playability

Director Mode

Vehicle
Ron Jakowski: Appearances
Game Edition

GTA OnlineGTA V Story Mode

Platforms

PC

PlayStation 4

Xbox One

PlayStation 3

Xbox 360
Appearances in Story Missions:
Ron Jakowski Screenshots
Ron Jakowski Artworks