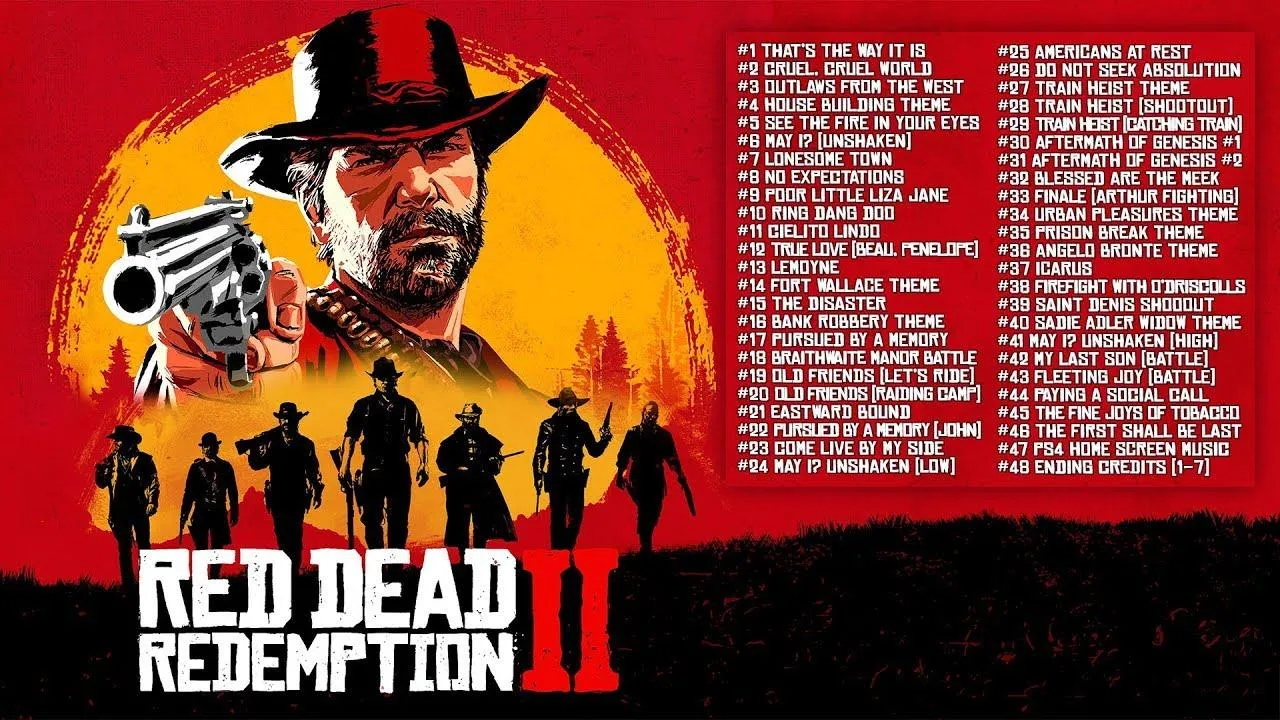 The soundtrack and score of Red Dead Redemption 2 is a powerful, emotional journey through the final days of America's outlaw era.
The dynamic Original Score has been composed by Woody Jackson, along with additional production and arrangement by an impressive selection of musicians. The Original Soundtrack has been produced by Daniel Lanois, featuring D'Angelo, Willie Nelson, Rhiannon Giddens and more.
Below you find the full list of songs and music featured in the Red Dead Redemption 2 Official Soundtrack and Score.
Red Dead Redemption 2 Full Track List
That's The Way It Is - by Daniel Lanois
Cruel, Cruel World - by Willie Nelson
Outlaws From The West
House Building Theme - by David "Fergie" Ferguson
See The Fire In Your Eyes - by Rhiannon Giddens
May I? Stand Unshaken - by D'Angelo
Lonesome Town
No Expectations
Poor Little Liza Jane
Ring Dang Doo
Cielito Lindo
True Love (Beau & Penelope)
Lemoyne
Fort Wallace Theme
The Disaster
Bank Robbery Theme
Pursued By a Memory
Braithwaite Manor Battle
Old Friends (Let's Ride)
Old Friends (Raiding The Camp)
Eastward Bound
Pursued By a Memory (Finding John)
Come Live By My Side
May I? Stand Unshaken (Low) - by D'Angelo
Americans At Rest
Do Not Seek Absolution
Train Heist Theme
Train Heist (Shootout)
Train Heist (Catching Train)
Aftermath of Genesis #1
Aftermath of Genesis #2
Blessed Are The Meek
Finale (Arthur Fighting)
Urban Pleasures Theme
Prison Break Theme
Angelo Bronte Theme
Icarus
Firefight With O'Driscolls
Saint Denis Shootout
Sadie Adler Widow Theme
May I? Stand Unshaken (High) - by D'Angelo
My Last Son (Battle Theme)
Fleeting Joy (Battle Theme)
Paying A Social Call
The Fine Joys Of Tobacco
The First Shall Be Last
PS4 Home Screen Music
Ending Credits Theme #1
Ending Credits Theme #2
Ending Credits Theme #3
Ending Credits Theme #4
Ending Credits Theme #5
Ending Credits Theme #6
Ending Credits Theme #7
Stay tuned for the official release of the "The Music of Red Dead Redemption 2".
Red Dead Redemption 2 Official Soundtrack Youtube Video