GTA San Andreas Gangs List, Territories & Gang Wars Guide
---

On this page, you find the full list of Gangs & Factions in Grand Theft Auto: San Andreas, as well as a complete Gang Wars guide for both the original game and GTA San Andreas: The Definitive Edition.
The Gangs in GTA San Andreas play a much larger role compared to previous games, with an increased number of gangs, new methods of attacks, and a new "Gang Warfare" and Territory system.
Each gang controls its own territory, indicated by colored areas on the map, as well as street warnings or wall graffiti. The various gang members can be recognized by their clothing, tattoos, and hand signs.
Gang Warfare: How To Take Over Territories in GTA San Andreas
The protagonist of GTA San Andreas, CJ, is the leader of the main gang of the game, the Grove Street Families. The game gives you the ability to take over areas of Los Santos, and recruit gang members to help and defend you. Only the Ballas (Purple) and Vagos (Yellow) territories can be taken over.
When you enter an enemy area, you can start a gang war by killing 3 enemy gang members, while on foot. You will then have to defeat three waves of enemies, each with increasingly more powerful weapons, to conquer the territory. Health and armor pickups will spawn on the street.
If successful, the area will become marked in Green on the map and will be now controlled by the Families. During the course of the game, the rival gangs will periodically try to take over your territories (which will flash Red on the map), and it's up to you to defend them.
While Gang Warfare is not required for 100%, controlling more territories rewards the player with Respect and Money, which can be collected in Grove Street at the Johnson House. Also, owning all gang warfare turfs is necessary for the Achievement "Ain't Nothing But a G Thing" in GTA San Andreas: The Definitive Edition.
By taking over all the territories in Los Santos, the Grove Street Families will completely own the city, meaning the Ballas and Vagos will permanently disappear and no longer attack your territories.
Note: The Gang Wars and Territory System become available after completing the mission "Doberman", but is temporarily unavailable between "The Green Sabre" and "Home Coming".
GTA San Andreas Gangs & Families List
Clicking on each GTA San Andreas gang below brings you to their detailed description, gang colors, members, their locations across San Andreas, weapons and vehicles they use, appearances in missions, and more information.
GTA San Andreas Law Enforcement Agencies
How To Recruit Gang Members in GTA San Andreas
In GTA San Andreas, you can recruit gang members to help attack enemy territory, shoot at rival gangs and cops, or defend you from attackers.
To recruit homies from the Grove Street Families:
Press Up

on the D-pad whilst targeting a member.

Once recruited, pressing Up again will tell make them follow you, also inside vehicles, provided there is enough space (only a bus can fit all 7 members)

You can press

Down on the D-Pad to tell them to stay put, and not follow you
Hold Down for a few seconds to disband the group
The possible number of recruits depends on CJ's Respect Level, with a maximum of 7 gang members at a time:
| Respect Amount | Recruitable Gang Members |
| --- | --- |
| Above 1% | 2 |
| Above 10% | 3 |
| Above 20% | 4 |
| Above 40% | 5 |
| Above 60% | 6 |
| Above 80% | 7 |
There are also GTA San Andreas Cheat Codes that allow you to recruit random pedestrians and even give them Rocket Launchers.
GTA San Andreas Gang Territories Map
In the map below, you can see all the Gang Territories in GTA San Andreas, with the original owner of each one: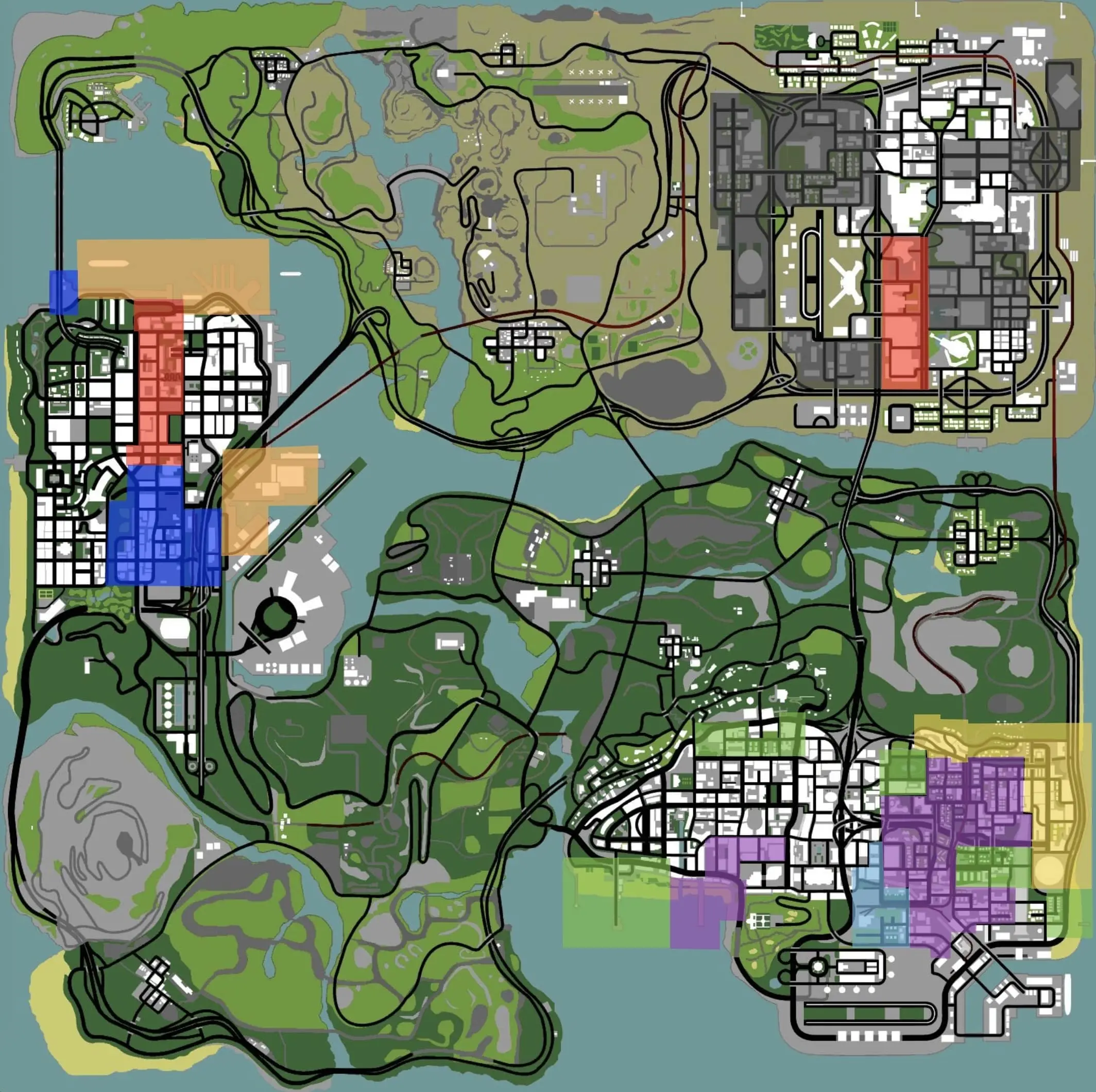 Only the Los Santos territories involving the Grove Street Families (Green), Ballas (Purple), and Vagos (Yellow) can be taken over in GTA San Andreas. The other territories are not part of the Gang Warfare system.