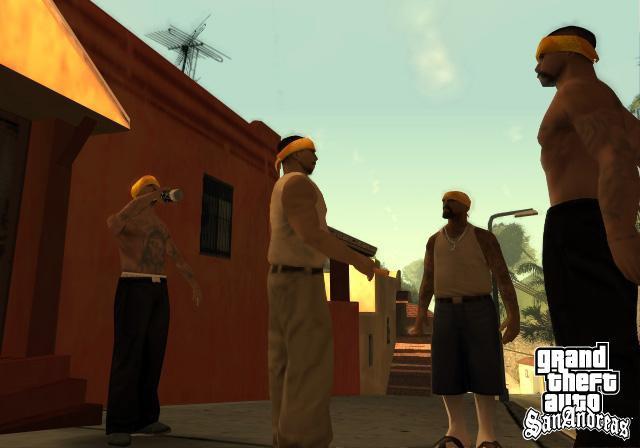 The Los Santos Vagos are a Gang featured in Grand Theft Auto: San Andreas.
The Vagos are an antagonist group during the events of the game, being in a sworn war with the Grove Street Families.
The history of the Vagos is unknown, but they started forming during the 70s and 80s. They are based in the eastern and northeastern neighborhoods of Los Santos, areas historically populated by the Chicano community.
Their rivalries with the Aztecas, Families and Ballas are most likely developed due to territorial expansion, but also their involvement in the crack trade.
Members of the gang can easily be recognized by their yellow bandanas, and are extremely violent, attempting to swarm and flank their enemies. They can be seen wielding Pistols, but can also use SMG's, bats and AK47's during Gang Wars.
This Gang also appears in Grand Theft Auto V.
Los Santos Vagos: GTA SA Info
Group Type

Gang

Faction Type

Hispanic Street Gang

Nationality

Mexico

Location

Las Colinas; Los Flores; East Beach

Occupation

Drug Trafficking; Drug manufacturing; Protection

Also Known As

Northside Vagos; Northerners; LSV; Vagos

Gang Colors

Yellow

Front Companies

Big Smoke's Crack Palace; East Los Santos Gang House; Madd Dogg's Crib; El Corona Village

Enemies

Big Smoke Eddie PulaskiGrove Street Families San Fierro Rifa San Fierro Triads The Ballas Varrios Los Aztecas
Los Santos Vagos: Appearances
Appearances in Story Missions: