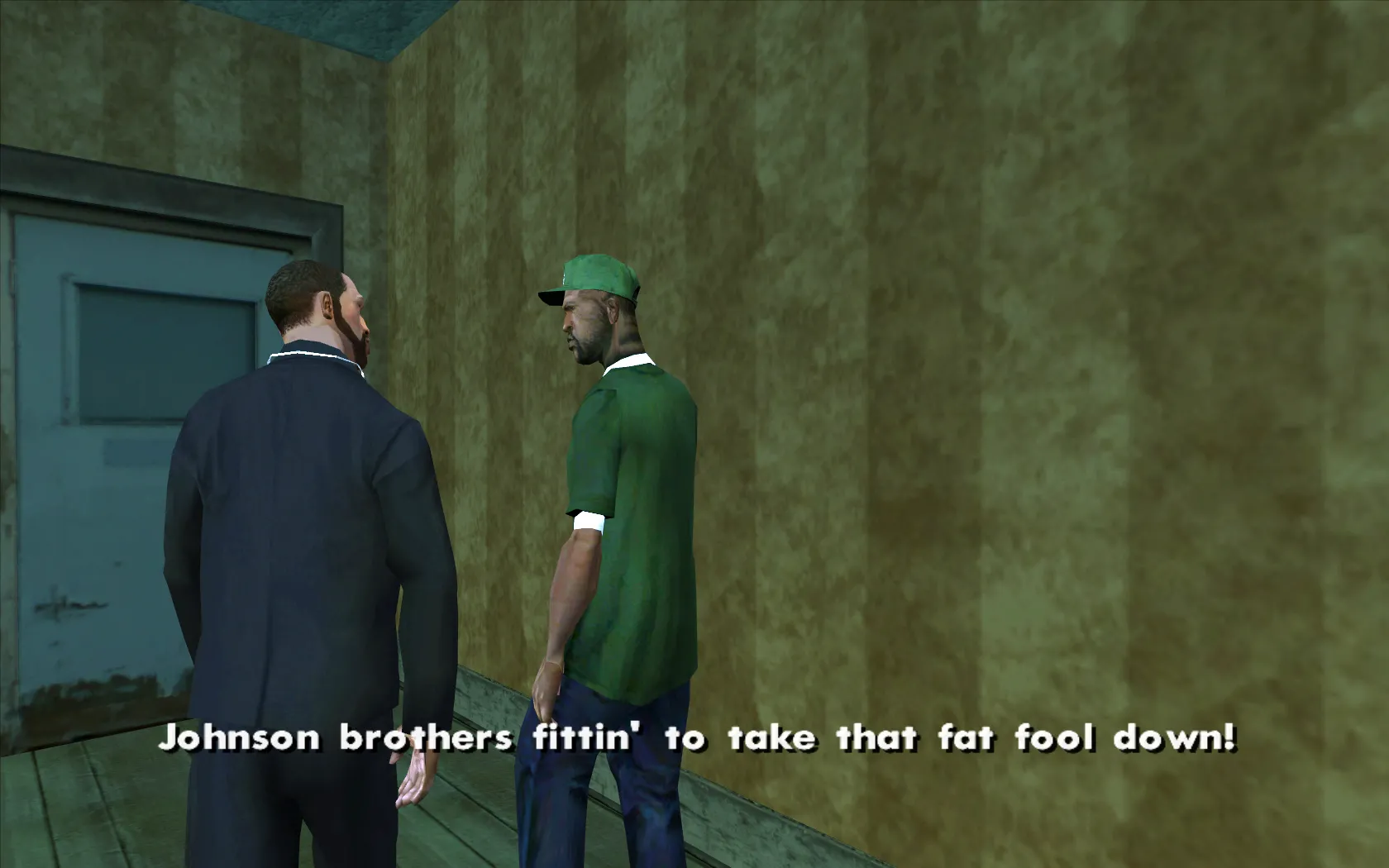 End of the Line is the final mission and ending of the storyline of GTA San Andreas.
It's given to CJ by Sweet Johnson, and it takes place in Los Santos.
Carl takes out his enemies for one last mission.
End of the Line: Mission Objectives
Get in the car with Sweet.
Drive to Big Smoke's Crack Fortress.
Security is tight in the Crack Fortress. There is only one way in but the door is locked down because of the riots.
The only way past that reinforced entrance is to knock it down.
A heavy vehicle like SWAT Tank will be able to smash down the entrance easily.
Go get the SWAT Tank.
Use the SWAT Tank to ram right through the entrance of Big Smoke's Crack Fortress.
Smash through the wall to gain entry!
There is an entrance into the first floor towards the back of this area.
Smoke is on the Fourth floor in his Penthouse suite. You will have to work your way through three floors to get there.
Make your way to Floor 3.
Make your way to Floor 4.
Go get Big Smoke.
Smoke has switched the lights off go get the thermal goggles by the lower window.
Tenpenny has caused an explosion, the lighting in the building is off and the whole place is beginning to burn down. You need to get out of here quick!
Use the night vision goggles you have just picked up from Big Smoke to help you see in the dark and escape the building as quick as possible.
This floor is on fire use a fire extinguisher to help you get out!
Follow Tenpenny and make sure Sweet is safe, stay close to the firetruck and do not lose Tenpenny.
Do not attempt to damage the firetruck or you may injure Sweet.
The cop is stamping on Sweet's fingers, get your car close to him in case he loses his grip.
End of the Line: Mission Info
Mission Number

100

Mission Type

Mandatory Mission

Mission Giver

Sweet Johnson

Location

Sweet's House, Ganton

State / Area

Los Santos

How To Unlock

This mission is unlocked after taking over 35% of gang territory in Los Santos
Rewards

$250,000; The End of the Line achievement; Respect +

Featuring

Brown Streak (Train)FeltzerFire TruckGreenwoodPolice CarS.W.A.T.TankerSMGCombat ShotgunAK-47M4Molotov CocktailFire ExtinguisherSweet JohnsonBig SmokeFrank TenpennyCesar VialpandoThe TruthMadd DoggKendl JohnsonKent PaulMaccerKen RosenbergGrove Street FamiliesThe BallasLos Santos VagosSan Fierro RifaRussian MafiaC.R.A.S.H.Johnson House
End of the Line: Video Walkthrough
Original Game Walkthrough (PS2, Xbox, PC):
The Definitive Edition Remaster Walkthrough: