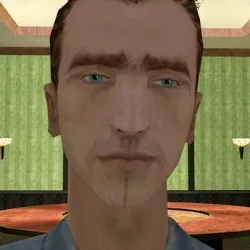 Kent Paul appears as a Supporting Character in GTA San Andreas.
Kent Paul is the record producer for the band The Gurning Chimps. Carl comes across Paul when he rescues him and Maccer from being stranded in the desert. Carl also later saves the pair from Salvatore Leone.
The character of Kent Paul also appears in GTA Vice City.
Kent Paul: Character Info
Role

Supporting Character

Gender

Male

Born In Year

1965 (27 years old in 1992)

Nationality

England

Location

Vinewood, Los Santos

Occupation

Band Manager

Also Known As

Paul; Paulo; P; KP; Pablo; Pabsy; Kent

Performer / Actor

Danny Dyer

Vehicles

Sentinel
Kent Paul: Appearances
Appearances in Story Missions: