Red Dead Redemption 2 Missions List: All Story Missions Guide
---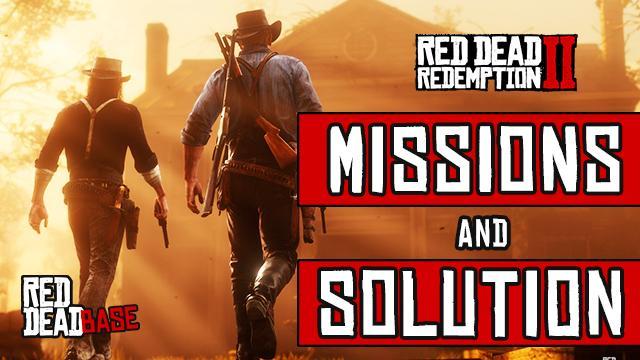 Here you find the full list of all RDR2 Story Missions, along with a complete mission guide, locations, mission givers, and Gold Medal objectives. There are 110 missions in total in the main storyline of Red Dead Redemption II, divided across 8 Story Chapters.
A prequel to the original Red Dead Redemption game, throughout the story of RDR2 you venture through the wild west as Arthur Morgan, the right-hand man of the infamous Van der Linde Gang.
The Red Dead Redemption 2 missions below are listed in chronological order, grouped by the Chapter they take place in. Note that some missions from different characters become available at the same time, so they can be played in a slightly different order.
Also, 19 of these are Optional Honor Missions, not necessary for story progression, but required for the "Lending a Hand" Trophy/Achievement. These are missable if you don't complete them at their specific point in the story.
Clicking on a Red Dead Redemption 2 mission brings you to its full details, with Gold Medal Objectives, Video Walkthrough, rewards, and more information.
How many Missions are in Red Dead Redemption 2?
There is a total of 110 story missions in Red Dead Redemption 2, across the 8 Story Chapters.
Out of these, 105 missions have Gold Medal Objectives to be completed, 19 are Optional Honor Missions (missable) required for the "Lending a Hand" Trophy / Achievement, and 1 is exclusive to the Special Edition.
How to Replay Missions in RDR2?
Red Dead Redemption 2 missions feature a rating system, with specific objectives (such as time, damage, accuracy, etc.) required to achieve the Gold Medal in a mission.
Just completing a mission will give you a Bronze Medal by default. You earn a Silver Medal by meeting at least one objective, but you must complete 100% of the objectives to earn a Gold Medal.
To try again, you can replay the missions you already completed. You can do so by pressing the Pause button right after completing a mission, or replay any mission you want by accessing the Pause Menu and going to "Progress > Story" and selecting a Chapter.
It's important to note that, unlike GTA V, in Red Dead Redemption II you must complete all Gold Medal requirements in one single playthrough of the mission.
Earning at least 70 Gold Medals in Story Missions is required for the "Gold Rush" Achievement / Trophy.
Red Dead Redemption 2 Side Missions
In addition to the main RDR2 Story Mode, Red Dead Redemption II also features other optional side missions and activities that can be played.
These include Strangers Missions, which involve interesting characters that you can encounter outside the main story. Some of these endeavors trigger the hunt for Collectibles items to find around the map.
There are also additional activities that you can take part in, such as Hunting, Fishing and Table Games.