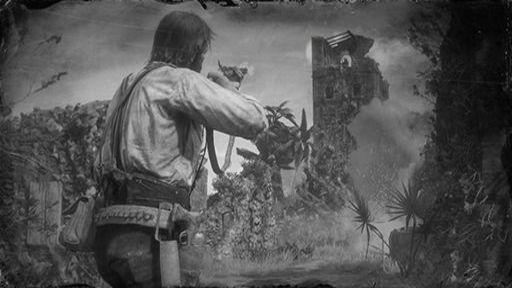 Paradise Mercifully Departed is a main story mission in Red Dead Redemption 2, as part of Chapter 5 .
It's the 64° mission in chronological order of the RDR2 story mode, played with protagonist Arthur Morgan.
Paradise Mercifully Departed - Mission Details:
Arthur and the gang must destroy gun emplacements on the coast, and rescue the ship captain, before they can leave the island.
Mission Objectives
Gold Medal Objectives (100%)
The following are the Mission Objectives required to obtain the Gold Medal in the mission "Paradise Mercifully Departed":
Kill the first 2 entries without being spotted
Escort the captain to the boat within 1 minute 45 seconds
Complete within 6 minutes 45 seconds
Get 25 headshots
Note: You must complete all Gold Medal requirements in one single playthrough of the mission.
Paradise Mercifully Departed: Mission Info
Mission Number

64

Story Chapter

Chapter 5

Mission Type

Mandatory Mission

Protagonist (Playable)

Arthur Morgan

Location

Guarma
Featuring

Alberto FussarLevi SimonHercule Fontaine
Paradise Mercifully Departed Gold Medal Video Walkthrough