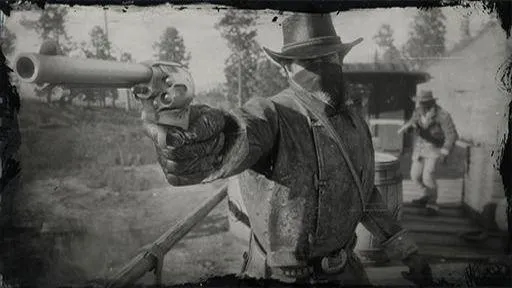 Who the Hell is Leviticus Cornwall? is a main story mission in Red Dead Redemption 2 given by Dutch van der Linde , as part of Chapter 1 .
It's the 5° mission in chronological order of the RDR2 story mode, played with protagonist Arthur Morgan .
Who the Hell is Leviticus Cornwall? - Mission Details:
In need of money, and with the plans and explosives stolen from the O'Driscolls' camp, the gang ride out to rob Leviticus Cornwall's private train.
Mission Objectives
Gold Medal Objectives (100%)
The following are the Mission Objectives required to obtain the Gold Medal in the mission "Who the Hell is Leviticus Cornwall?":
Save Lenny when he is hanging from the train
After stopping the train, take out the guards within 1 minute 30 seconds
Take no damage during the shootout
Get 10 headshots
Complete the mission without taking any health items
Note: You must complete all Gold Medal requirements in one single playthrough of the mission.
Who the Hell is Leviticus Cornwall?: Mission Info
Who the Hell is Leviticus Cornwall? Gold Medal Video Walkthrough