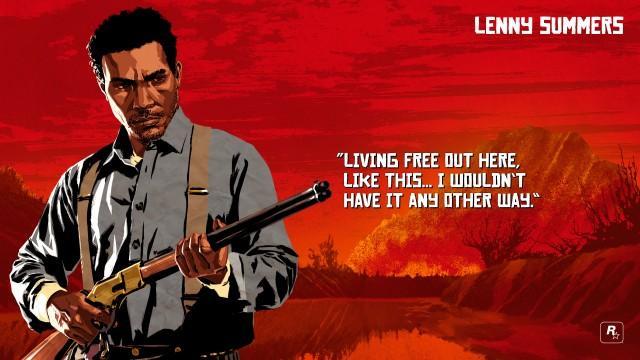 A fairly recent addition to the gang, young Lenny had spent the previous three years on the run for murder from every lawman and bounty hunter west of the Lannahechee River.
Some drunks jumped and killed his father when he was walking home one night, so Lenny stole a gun and shot them all. He was only 15 years old at the time. His father and uncle were well-educated and gave Lenny a good schooling when he was growing up.
Smart, educated, competent and ambitious, he is always ready to do his part, and is fairly happy living in a community where he is mostly judged for his ability not his appearance.
Character Information
Role

Companion

Gender

Male

Born

1880

Nationality

American

Affiliation

Van der Linde Gang

Horse

Mustang
Performer / Actor

Harron Atkins
Mission Appearances
As Mission Giver

As Featured Character
"Living free out here, Like this... I wouldn't have it any other way."
Screenshots
Artworks