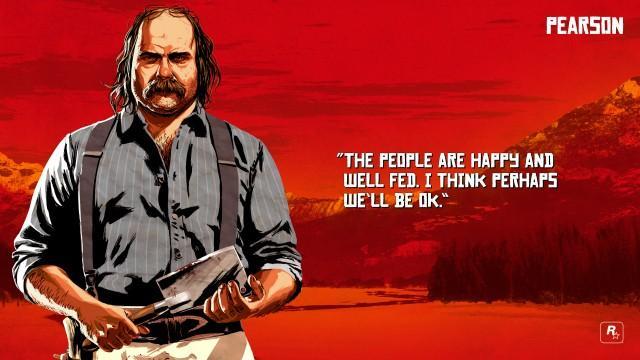 Mr. Pearson is a character that appears as a Companion in Red Dead Redemption 2.
He is a member of the Van der Linde Gang.
The gang's butcher and camp cook, Pearson served a short stint in the navy that he likes to talk about at length.
His father and grandfather were both whale hunters and he was going to follow in their footsteps but, by the time he left school, nobody wanted whale oil any more.
He came out west and got in some bad trouble with some men who were shaking him down for money. Dutch found him at his wit's end and took him under his wing.
He is a loud, jolly degenerate who puts on a brave face, but is somewhat in denial about the turn his life has taken.
Mr. Pearson: Character Info
Role

Companion

Gender

Male

Nationality

United States

Location

In 1907 he manages the General Store in Rhodes (Scarlett Meadows, Lemoyne)

Occupation

Cook; Butcher; Shopkeeper

Also Known As

Simon Pearson (Full name)

Performer / Actor

Jim Santangelli

Affiliation

Van der Linde Gang
Mr. Pearson: Appearances
Game Edition

RDR 2 Story Mode
Mr. Pearson Missions in Red Dead Redemption 2:
"The people are happy and well fed. I think perhaps we'll be ok."
Screenshots
Artworks