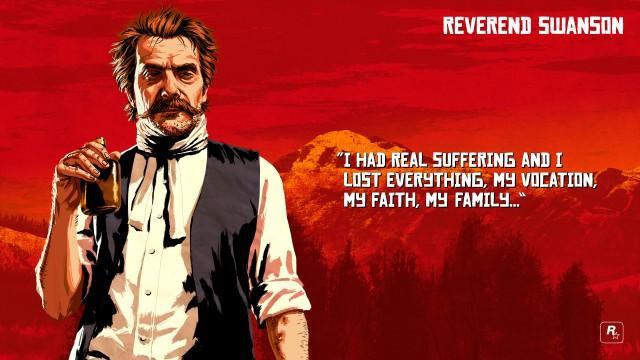 A former clergyman now lost to debauchery, Swanson has fallen a long way from the standards he once set himself and struggles with many demons.
He started using morphine to ease some back pain a few years ago and it quickly took a desperate hold on him. A beaten man who has lost his self-esteem, direction and most of his religion, his failings are made all the worse as he is very much aware of them.
If he hadn't saved Dutch's life in the past, it's unlikely the gang would have kept him around for this long.
Character Information
Role

Companion

Gender

Male

Nationality

United States

Affiliation

Van der Linde Gang

Also Known As

Orville Swanson (Full name)
Performer / Actor

Sean Haberle
Appearances
As Mission Giver

In Story Missions
"I had real suffering and I lost everything, my vocation, my faith, my family ..."
Screenshots
Coming soon.
Artworks