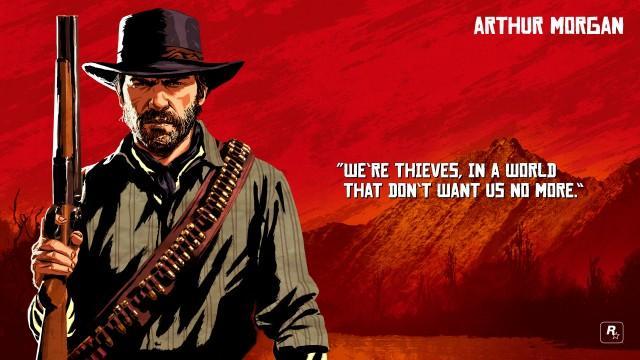 Arthur Morgan is Dutch's trusted right arm, and the main story protagonist of Red Dead Redemption 2. As of 1899, he is 36 year old.
The life of an outlaw is all Arthur Morgan has ever know. Dutch Van der Linde met Arthur when he was just 14 years old, a particularly damaged and angry young delinquent who had been on the streets ever since losing his parents at a young age.
Arthur became Dutch's first real protégé; with a little mentoring and structure, he transformed into his most dependable and capable enforcer. His loyalty to the gang leader has been unwavering in this time, though the recent failed robbery at Blackwater has clearly troubled him.
He is sharp, cool-headed, and ruthless, but with his own sense of honor. A man who prides himself on getting the job done.
Character Information
Role

Main Protagonist

,

Playable

Gender

Male

Born

1863

Nationality

American

Affiliation

Van der Linde Gang

Also Known As

Fake Alias: Arthur Callahan; Fenton; Tacitus Kilgore
Performer / Actor

Roger Clark

Notes

Main Protagonist of Red Dead Redemption 2
"We're thieves in a world that don't want us no more."
Screenshots
Artworks