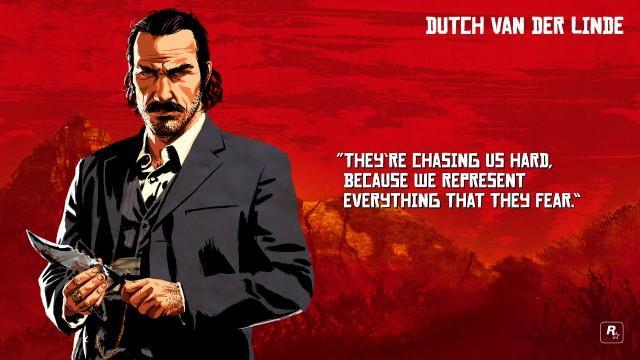 Dutch van der Linde appears as a Major Character and Companion in Red Dead Redemption 2.
Dutch Van der Linde is the charismatic leader of a sizeable gang of outlaws and misfits, the Van der Linde Gang.
Dutch sees himself not as a criminal, but as a man fighting back against a corrupt system of power. He is radically opposed to government control. He values individual liberties above all else and dreams of living an independent existence, appropriating wealth from others and answering to no authority.
He took orphans and street kids under his wing, taught them how to read, instilled self-worth and the importance of independent thinking... all framed within his own ideologies and while they did most of his dirty work, of course. He believed in them in exchange for them believing in him.
Dutch is idealistic, anarchic, charismatic, well-read and well-lived, but possibly starting to unravel under the pressures of the encroaching modern world. He is reluctantly starting to realize that the way of life he holds dear is fast becoming an unrealistic proposition.
Dutch van der Linde: Character Info
Gender

Male

Born In Year

1858 (41 years old in 1899)

Nationality

United States

Occupation

Gang Leader

Also Known As

Fake Alias: Hoagy Macintosh; Aiden O'Malley; Archibald Smith

Performer / Actor

Benjamin Byron Davis

Affiliation

Van der Linde Gang

Weapons

Schofield Revolver

Horse

White Arabian Horse
Notes

He always has a plan. He just needs some more money. And some more time.
Dutch van der Linde: Appearances
Game Edition

RDR 2 Story Mode
Dutch van der Linde Missions in Red Dead Redemption 2:

Appearances in Story Missions:
They're chasing us hard, because we represent everything that they fear.
Screenshots
Artworks