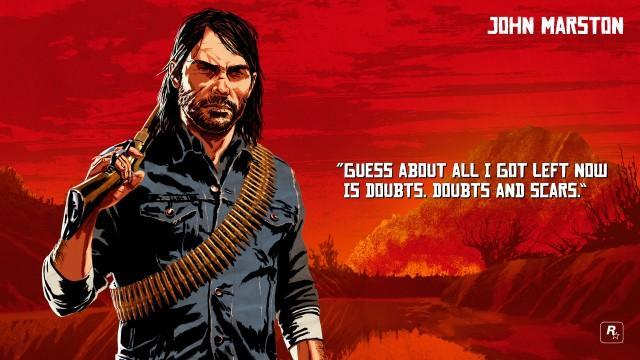 John Marston is a character that appears as a Companion and Playable Character in Red Dead Redemption 2.
He was the protagonist of the first "Red Dead Redemption" game (which is the sequel story to Red Dead Redemption 2). He is a member of the Van der Linde Gang.
In 1885, Dutch saved a boy from a lynching at the hands of some homesteaders who'd caught him stealing in Illinois. That boy turned out to be 12-year-old John Marston, a bad kid who'd started robbing and killing at a young age.
His mother had died in childbirth and his father had been blinded in a bar fight, and died in 1881 when John was eight years old. Marston spent the next few years in an orphanage before running away to make his own luck on the streets.
He is now at a personal crossroads in his life. Husband in all but lawful status to Abigail, and the father of Jack, he isn't always clear about where his priorities lie. John was badly wounded during the Blackwater events that occur just prior to the beginning of the story.
Shrewd, fearless and strong-willed, he and Arthur Morgan are Dutch Van der Linde's proudest protégés.
John Marston: Character Info
Gender

Male

Born In Year

1873 (26 years old in 1899)

Nationality

United States

Location

From 1907 the Marston family lives at Beecher's Hope (Great Plains, West Elizabeth)

Also Known As

Fake Alias: Jim Milton

Performer / Actor

Rob Wiethoff

Family

Affiliation

Van der Linde Gang
Notes

Protagonist of the first "Red Dead Redemption" game.
John Marston: Appearances
Game Edition

RDR 2 Story Mode
As Protagonist (Playable)

John Marston Missions in Red Dead Redemption 2:

Appearances in Story Missions:
"Guess about all I got left now is doubts. Doubts and scars."
Screenshots
Artworks