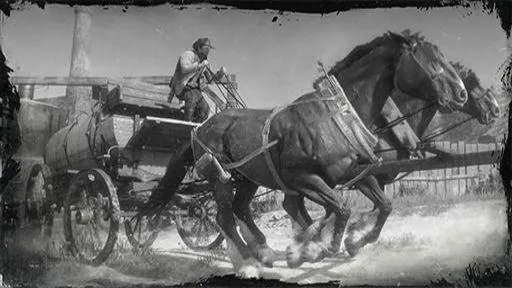 Pouring Forth Oil - I & II is an optional story mission in Red Dead Redemption 2 given by John Marston , as part of Chapter 2 .
It's the 20° mission in chronological order of the RDR2 story mode, played with protagonist Arthur Morgan .
While optional for story progression, this is an Optional Honor Mission required for the "Lending a Hand" Trophy/Achievement. It's a time-sensitive and missable mission, so it can only be played at this specific point in the story.
Pouring Forth Oil - I & II - Mission Details:
Arthur steals an oil wagon to use in the train job being planned by John.
Mission Objectives
Gold Medal Objectives (100%)
The following are the Mission Objectives required to obtain the Gold Medal in the mission "Pouring Forth Oil - I & II":
Deliver the wagon to the drop off within 1 minute 45 seconds
Note: You must complete all Gold Medal requirements in one single playthrough of the mission.
Pouring Forth Oil - I & II: Mission Info
Pouring Forth Oil - I & II Gold Medal Video Walkthrough