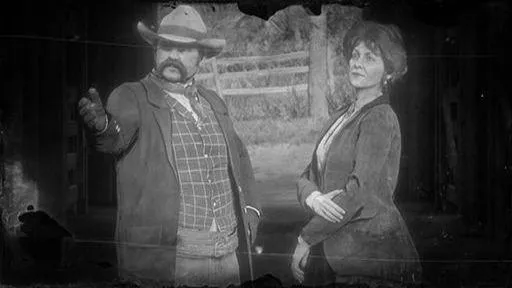 Jim Milton Rides, Again? is a main story mission in Red Dead Redemption 2 given by David Geddes , as part of Epilogue - Part 1 .
It's the 95° mission in chronological order of the RDR2 story mode, played with protagonist John Marston .
Jim Milton Rides, Again? - Mission Details:
John is thanked by Mr. Geddes for his help with the Laramie Gang, and he turns in for the night, only to be woken by a raid on the ranch.
Mission Objectives
Gold Medal Objectives (100%)
The following are the Mission Objectives required to obtain the Gold Medal in the mission "Jim Milton Rides, Again?":
Get 10 kills while dual wielding sidearms
Get 15 headshots
Complete the mission without taking any health items
Note: You must complete all Gold Medal requirements in one single playthrough of the mission.
Jim Milton Rides, Again?: Mission Info
Featuring

Mrs. Geddes Tom Dickens The Laramie Gang
Jim Milton Rides, Again? Gold Medal Video Walkthrough