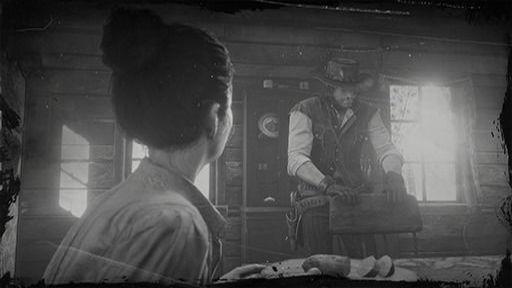 Fatherhood, for Idiots is a main story mission in Red Dead Redemption 2 given by Abigail Roberts (Marston), as part of Epilogue - Part 1 .
It's the 96° mission in chronological order of the RDR2 story mode, played with protagonist John Marston.
Fatherhood, for Idiots - Mission Details:
John juggles fatherhood and his multiple identities as he heads to Strawberry with Jack to collect mail for Geddes, and a package for Abigail.
Mission Objectives
Gold Medal Objectives (100%)
The following are the Mission Objectives required to obtain the Gold Medal in the mission "Fatherhood, for Idiots":
Kill all 3 enemies in Dead Eye
After the confrontation, return to Pronghorn Ranch within 1 minute 30 seconds
Note: You must complete all Gold Medal requirements in one single playthrough of the mission.
Fatherhood, for Idiots: Mission Info
Mission Number

96

Story Chapter

Epilogue - Part 1

Mission Type

Mandatory Mission

Mission Giver

Abigail Roberts (Marston)

Protagonist (Playable)

John Marston

Location

Strawberry (Big Valley, West Elizabeth)
Featuring

Hector BarlowJack Marston
Fatherhood, for Idiots Gold Medal Video Walkthrough