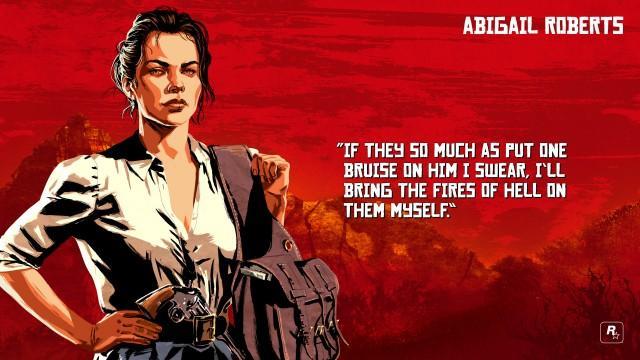 Abigail Roberts is John Marston's romantic partner, and the watchful mother of Jack.
An orphan who grew up scraping out a living in dive bars and brothels in the West, she was introduced to Dutch's gang by Uncle around five years ago.
Abigail is a strong, single-minded, straight-talking woman who has seen a lot of life and knows what it takes to survive against the odds.
Her young son Jack is her great pride and purpose. She is determined to give him a better and more loving childhood than she ever had, even if it is an unconventional one.
Character Information
Role

Companion

Gender

Female

Born In Year

1877 (22 years old in 1899)

Nationality

United States

Location

From 1907 the Marston family lives at Beecher's Hope (Great Plains, West Elizabeth)

Family

Affiliation

Van der Linde Gang

Also Known As

Fake Alias: Agatha Milton
Performer / Actor

Cali Elizabeth Moore

Notes

Wife of John Marston
Appearances
As Mission Giver

In Story Missions
"If they so much as put one bruise on him I swear, I'll bring the fires of hell on them myself."
Screenshots
Artworks