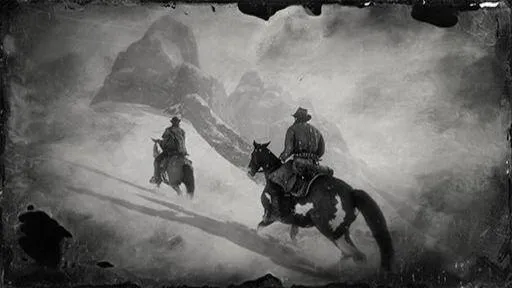 Enter, Pursued by a Memory is a main story mission in Red Dead Redemption 2 given by Abigail Roberts (Marston), as part of Chapter 1 .
It's the 2° mission in chronological order of the RDR2 story mode, played with protagonist Arthur Morgan.
Enter, Pursued by a Memory - Mission Details:
John hasn't returned from an earlier scouting trip. Arthur and Javier ride out into the snow to look for him.
Mission Objectives
Gold Medal Objectives (100%)
The following are the Mission Objectives required to obtain the Gold Medal in the mission "Enter, Pursued by a Memory":
Kill all the wolves without taking any damage
Complete with at least 80% accuracy
Note: You must complete all Gold Medal requirements in one single playthrough of the mission.
Enter, Pursued by a Memory: Mission Info
Mission Number

2

Story Chapter

Chapter 1

Mission Type

Mandatory Mission

Mission Giver

Abigail Roberts (Marston)

Protagonist (Playable)

Arthur Morgan

Location

Colter, Grizzlies West (Ambarino)
Rewards

Unlocks the "Just a Scratch" Trophy / Achievement.

Unlocked Items

Sawed-Off Shotgun
Enter, Pursued by a Memory Gold Medal Video Walkthrough