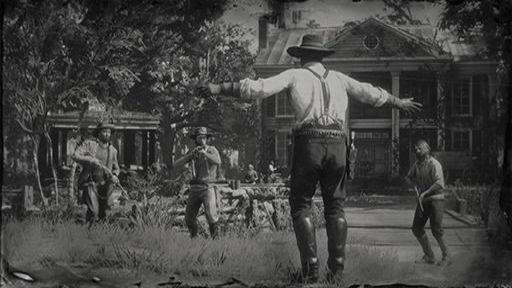 Preaching Forgiveness As He Went is a main story mission in Red Dead Redemption 2 given by Lenny Summers, as part of Chapter 3 .
It's the 38° mission in chronological order of the RDR2 story mode, played with protagonist Arthur Morgan.
Preaching Forgiveness As He Went - Mission Details:
Following a lead about the Lemoyne Raiders sitting on a pile of weapons, Lenny and Arthur ride out deep into the woods towards Shady Belle.
Mission Objectives
Gold Medal Objectives (100%)
The following are the Mission Objectives required to obtain the Gold Medal in the mission "Preaching Forgiveness As He Went":
Kill 10 Lemoyne Raiders with a long scoped rifle
Complete within 11 minutes and 30 seconds
Complete with at least 70% accuracy
Complete the mission without taking any health items
Note: You must complete all Gold Medal requirements in one single playthrough of the mission.
Preaching Forgiveness As He Went: Mission Info
Mission Number

38

Story Chapter

Chapter 3

Mission Type

Mandatory Mission

Mission Giver

Lenny Summers

Protagonist (Playable)

Arthur Morgan

Location

Shady Belle (Bayou Nwa, Lemoyne)
Unlocked Items

Bolt-Action Rifle

Featuring

Bolt-Action RifleLemoyne Raiders
Preaching Forgiveness As He Went Gold Medal Video Walkthrough