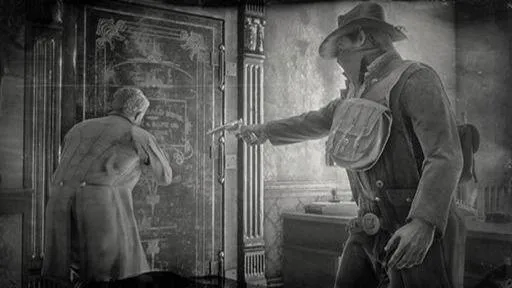 Sodom? Back to Gomorrah is a main story mission in Red Dead Redemption 2 given by Bill Williamson , as part of Chapter 3 .
It's the 39° mission in chronological order of the RDR2 story mode, played with protagonist Arthur Morgan .
Sodom? Back to Gomorrah - Mission Details:
With the heat in Valentine having died down, Bill thinks it's finally time to hit the bank. Karen causes a distraction while Arthur handles the vaults.
Mission Objectives
Gold Medal Objectives (100%)
The following are the Mission Objectives required to obtain the Gold Medal in the mission "Sodom? Back to Gomorrah":
Loot all the safes
Headshot 5 mounted Lawmen during the horseback escape
Get to Downes Ranch within 1 minute 55 seconds
Complete with at least 70% accuracy
Complete the mission without taking any health items
Note: You must complete all Gold Medal requirements in one single playthrough of the mission.
Sodom? Back to Gomorrah: Mission Info
Rewards

Gang Share: $10,000.00; Arthur's Cut: $2,750.00

Notes

Also known as "The Valentine Bank Heist".
Sodom? Back to Gomorrah Gold Medal Video Walkthrough