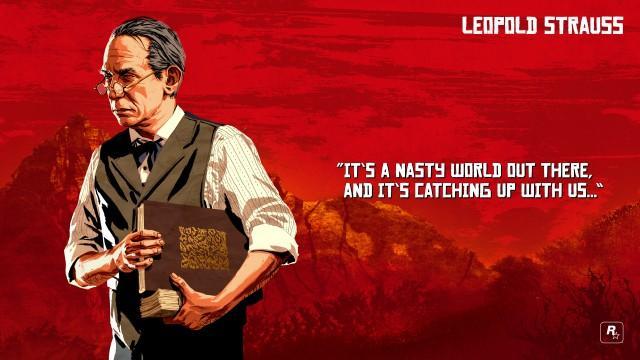 Originally hailing from Austria, Herr Strauss is responsible for keeping the Van der Linde Gang's books and running their money lending operation.
A serious, somewhat shifty and unemotional man, he has all the qualities a loan shark needs.
He grew up very poor in Vienna, in the Austro-Hungarian Empire, and had some serious health problems during childhood. At age 17, the young Leopold Strauss was sent on a boat to the New World. After years of scamming the wrong people, he fell in with Dutch mainly for protection and has been with him ever since.
He's the camp loan shark, sending Arthur to encourage reluctant debtors to pay up.
Character Information
Role

Companion

Gender

Male

Born In Year

1846 (53 years old in 1899)

Nationality

Austria

Occupation

Loan shark

Affiliation

Van der Linde Gang

Also Known As

Herr Strauss
Performer / Actor

Howard Pinhasik
Appearances
As Mission Giver

In Story Missions
"It's a nasty world out there, and it's catching up with us..."
Screenshots
Artworks