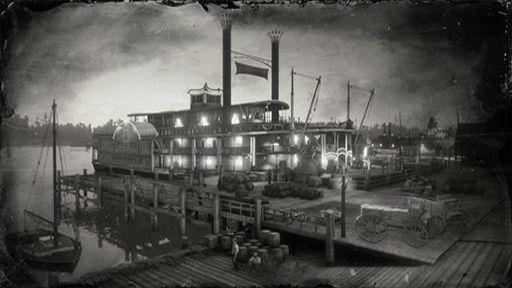 While at the Mayor's party, the gang learned of a card tournament being held on the Grand Korrigan riverboat. Strauss and Trelawny fix a game so Arthur can win big on the tables.
Mission Information
Mission Number

52

Story Chapter

Chapter 4

Mission Type

Mandatory

Mission Giver

Josiah Trelawny

Protagonist (Playable)

Arthur Morgan

Location

The Grand Korrigan riverboat (Bayou Nwa, Lemoyne)
Rewards

Gang Share: $3,000.00; Arthur's Cut: $825.00

Unlocked Items

Semi-Auto Shotgun
Mission Objectives
The following are the Mission Objectives required to obtain the Gold Medal:.
Win the game of Poker without Strauss's help
After your cover is blown, escape the boat in under 35 seconds
Get 5 headshots
Complete the mission without taking any health items
Note: You must complete all Gold Medal requirements in one single playthrough of the mission..
Gold Medal Video Walkthrough