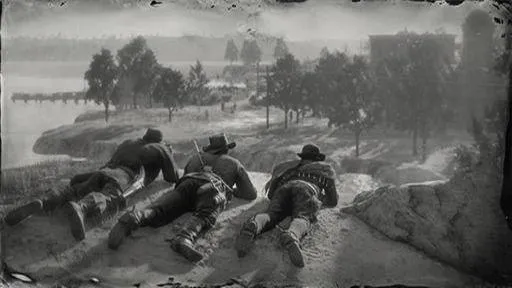 The First Shall Be Last is a main story mission in Red Dead Redemption 2 given by Javier Escuella, as part of Chapter 2 .
It's the 11° mission in chronological order of the RDR2 story mode, played with protagonist Arthur Morgan.
The First Shall Be Last - Mission Details:
Following a tip-off on Sean's whereabouts, Arthur, Trelawny, Javier and Charles track Ike Skelding's bounty hunters up the Upper Montana River and attempt to rescue Sean.
Mission Objectives
Gold Medal Objectives (100%)
The following are the Mission Objectives required to obtain the Gold Medal in the mission "The First Shall Be Last":
Silently kill the Bounty Hunters by the river with Javier
Shoot the rope to free Sean
Get 10 headshots
Complete the mission without taking any health items
Note: You must complete all Gold Medal requirements in one single playthrough of the mission.
The First Shall Be Last: Mission Info
Mission Number

11

Story Chapter

Chapter 2

Mission Type

Mandatory Mission

Mission Giver

Javier Escuella

Protagonist (Playable)

Arthur Morgan

Location

Upper Montana River (Big Valley, West Elizabeth)
The First Shall Be Last Gold Medal Video Walkthrough