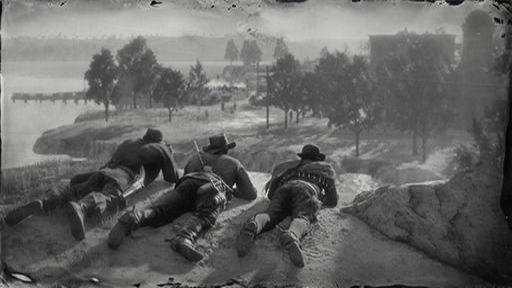 Following a tip-off on Sean's whereabouts, Arthur, Trelawny, Javier and Charles track Ike Skelding's bounty hunters up the Upper Montana River and attempt to rescue Sean.
Mission Information
Mission Number

11

Story Chapter

Chapter 2

Mission Type

Mandatory

Mission Giver

Javier Escuella

Protagonist (Playable)

Arthur Morgan

Location

Upper Montana River (Big Valley, West Elizabeth)
Mission Objectives
The following are the Mission Objectives required to obtain the Gold Medal:.
Silently kill the Bounty Hunters by the river with Javier
Shoot the rope to free Sean
Get 10 headshots
Complete the mission without taking any health items
Note: You must complete all Gold Medal requirements in one single playthrough of the mission..
Gold Medal Video Walkthrough