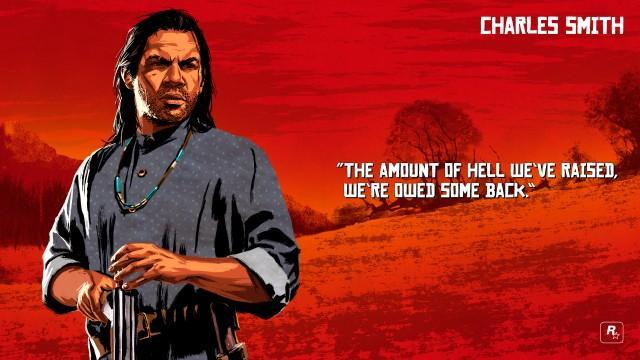 Charles Smith is a character that appears as a Companion in Red Dead Redemption 2.
A relatively recent recruit to the Van der Linde Gang, Charles Smith is quiet and reserved but extremely competent in everything he does, and he's virtually unbeatable in a fight.
Born to a Native American mother and African American father, Charles has spent his whole life on the run and has never felt like he really belongs anywhere. He joined up with Dutch mainly because he found some affinity with the gang's code.
An expert hunter and tracker, Charles is a decent, honest man who also happens to be deadly in any kind of a fight. Extremely principled, he struggles in a world that does not seem to value such ideals.
Charles Smith: Character Info
Charles Smith: Appearances
Game Edition

RDR 2 Story Mode
Charles Smith Missions in Red Dead Redemption 2:

Appearances in Story Missions:
"The amount of hell we've raised, we're owed some back."
Screenshots
Artworks