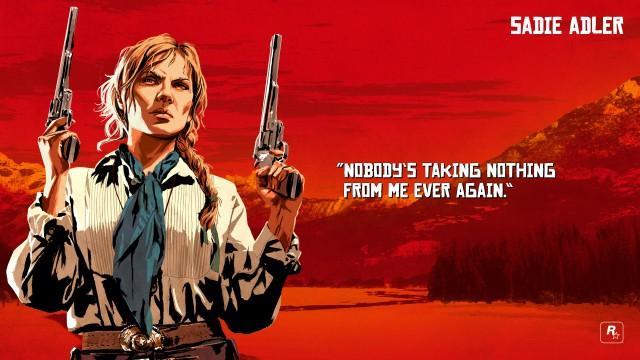 Sadie a widow hell-bent on taking revenge upon the men who broke into her home and killed her husband Jake - the O'Driscolls.
She grew up raising harsh land in the mountains and can ride, hunt and shoot with the best of them. She and Jake shared all the work on their farm until her whole life was taken from her in an instant, launching her on a relentless quest for vengeance.
Tough, dogged and afraid of nothing and no one, Sadie is the wrong woman to cross - but very loyal to those she loves.
Character Information
Role

Companion

Gender

Female

Nationality

American

Occupation

Bounty Hunter

Affiliation

Van der Linde Gang

Weapon

Carcano Rifle
Mission Appearances
As Mission Giver

As Featured Character
"Nobody's taking nothing from me ever again."
Screenshots
Artworks