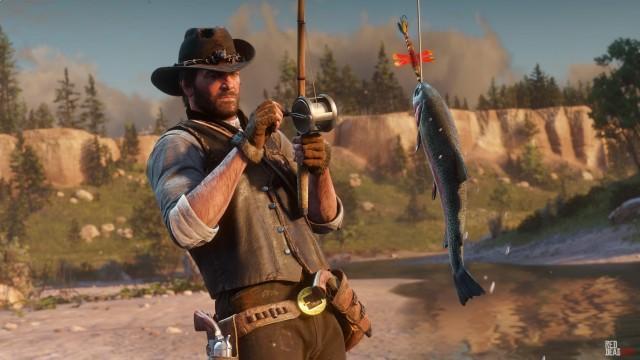 Here you find a full guide to Fishing in Red Dead Redemption 2, featuring information on how to fish, which equipment and bait you need, and tips on how to catch the perfect Fish.
How To Fish in Red Dead Redemption 2
Equip your Fishing Rod from the Item Wheel, then select a bait to use. You can find or buy various types of baits and lures to attract different species of fish.
Here are the Fishing Controls for RDR2:
- hold to display bait wheel
- press to quick equip bait
- hold to grip rod
- hold then release to cast out
- press to hook a fish / tap to flick bait
- move rod
- rotate clockwise to reel in
- reset cast / cut line
Fish attracted to the bait will often nibble before taking a firm bite. When you get a firm bite, the Fishing Rod will be pulled strongly downwards and the bobber pulled underwater, but the bite won't last long so quickly try to hook the fish.
Each Species of Fish bites at the bait differently. Some species nibble cautiously until taking a firm bite, other species are more confident and will repeatedly take firm bites. Predator species can bite suddenly without warning, so, when waiting for a bite, be ready to strike at all times.
When a hooked fish is struggling, it is aggressively swim trying to get away. Control the fish by pulling the rod left or right in the opposite direction to the fish movement. This will tire the fish so that it struggles less, making it easier to reel in.
When you reel in and unhook a fish, you can either keep it to eat or sell, or release the fish back into the water to gain honor if it is still alive. Smaller fish you keep are stored in your Satchel, while larger specimens can be stowed on your horse.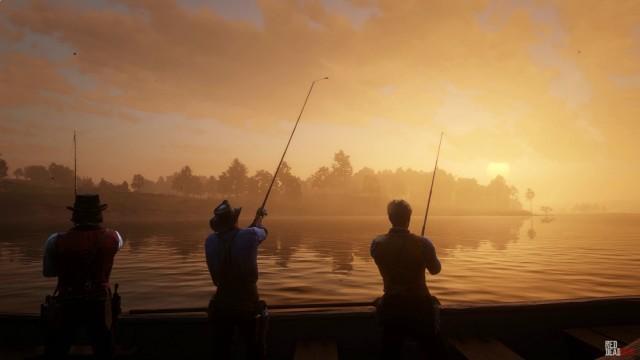 Bait / Bobber Fishing
Fishing with a bobber uses perishable baits such as bread and worms. Baits are cheap and readily available but are often lost whilst fishing, such as fish sometimes escaping with the bait if you miss a firm bite, so you will often need to rebait your hook.
When bobber fishing, cast out and keep your bait still to attract fish. The bobber rests on the surface of the water and is connected by fishing line to the hook with a bait attached to it. When a fish firmly bites at the bait, the bobber gets pulled under the water to indicate when you should strike with the Fishing Rod.
Lure Fishing
Artificial lures are more expensive than bait, but they are sturdy so can be used more than once. There are different lures that are suited to attracting river, lake and swamp-dwelling fish species.
Once you have cast out using a lure, keep reeling it in slowly to make it look like a little swimming fish or insect. A stationary lure just looks like an inanimate hunk of metal so will not attract any fish.
Lure fishing is more difficult than bobber fishing due to the need to keep the lure moving, but will attract much larger fish species.
RDR2 Fishing Tips
You can flick your Fishing Rod to help attract fish if you are not getting any bites, but doing so too often will spook them. "Pump" the Fishing Rod to make faster progress hauling in a hooked fish. Pull down the Left Analog Stick to drag the fish towards you then quickly reel in line.
When a hooked fish is struggling, grab hold of your reel by pushing and holding the Right Analog Stick in any direction to prevent the fish pulling out line. However, doing so for too long or too often may snap the line.
Fish activity is affected by weather and time of day. Fish are more active whilst it is raining and during cloudy days, compared to when it's sunny. Also, try fishing at different locations. You will find different species of fish around the maр.
Each fish species has a Legendary Fish which is the largest, most aggressive and, therefore, most difficult to catch of its species. Each legendary fish will be marked on your map when you are close to it.
As you catch each type of fish, information about the species and your catches will be recorded in the Compendium.