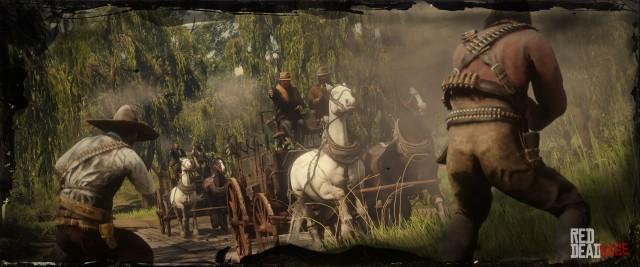 In Red Dead Online you can set up your Camp and ride with friends in a Posse, embark on cooperative story-based missions or go head-to-head in competitive series, find strangers throughout the world to help (or hurt), tackle spontaneous Free Roam challenges, go hunting, fishing, bond with your horse, explore with friends or on your own, and much more.
Free Roam Missions
Free Roam Missions in Red Dead Online are similar to the story mode's Stranger Side Missions.
Scattered throughout the map are a number of new and familiar characters who will give you missions to take on. From assassinations and kidnappings to coach holdups and wagon theft, you'll never be short of ways to earn RDO$ and XP rewards.
Head over to the Stranger icons throughout the map, alone or with your Posse, to embark on Free Roam Missions. These missions can vary based on how noble or nefarious you are.
For example, an honorable gunslinger may be asked to help escort a convoy, defending it from attacking gangs or even other players' Posses, whereas a dishonorable outlaw may be asked to help spring a felon from the law.
However, beware of nearby players: they can interfere with your mission to earn cash and XP rewards of their own, becoming your rivals.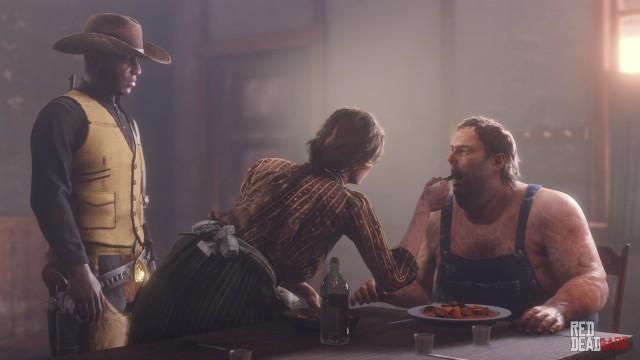 Free Roam Events
While traversing the world of Red Dead Online, you will come across Free Roam Events. These are special PvP competitive game types that can be played individually or as a Posse:
Cold Dead Hands: Fight for control over a target for the longest amount of time.
Competitive Challenges: Compete to get the highest score in a given, randomly-selected challenge within a set time limit (see below for more information).
Dispatch Rider: Posses compete to be the first to deliver a horse to the assigned destination.
King of the Castle: Compete to gain and maintain control of the castle area by staying alive inside of it - whoever controls the active area for the highest percentage of the event time wins.
Master Archer: Compete to score the most points by hitting the most targets as accurately as you can within the time limit.
Fool's Gold: Fight to wear a protective suit of Golden Armor. Take down the current wearer to earn the armor and points, then turn the tables and earn points for kills while wearing the armor.
Railroad Baron: Ride the rails and capture as many train cars as you can in this traveling variation of King of the Castle.
Starting from the Frontier Pursuits Update and with subsequent updates, new Role-themed Free Roam Events have been added:

Manhunt (Bounty Hunter)
Day of Reckoning (Bounty Hunter)
Salvage (Collector)
Condor Egg (Collector)
Trade Route (Trader)
Protect Legendary Animal (Naturalist)
Wild Animal Tagging (Naturalist)
Wildlife Photographer (Naturalist)
When an Event is about to start, you will receive a notification and can chose to opt-in and take part. Your notifications can be viewed in the Player menu and you will have a limited amount of time to accept. When the Event begins, you will be taken straight to the location.
If you are a member of a Posse and your Posse Leader accepts a Free Roam Event, all the Posse Members will take part. If your Posse is the only one to take part in the Event, you will temporarily become enemies and play against each other.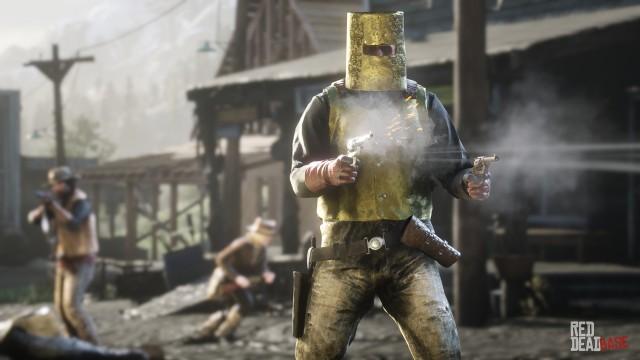 Competitive Challenges
While in Free Roam, you will receive invitations from time to time to participate in Competitive Challenges. These are quick, challenges that you can take place, anywhere in the world. After accepting, a timer will begin counting down and you will be warped to the challenge location. All you have to do is complete the challenge to the best of your ability in the time given.
If you are a member of a Posse, you will play individually but win as a team, so help out your Posse to up your chances of a reward.
These currently includes Bow, Headshot, Horseback, Longarm, and Sidearm Kill Challenges, as well as Fishing Challenges and Wild Animal Kills Challenge.
Daily Challenges
Every day you will be given seven challenges to complete in Free Roam. These are a series of wide-ranging objectives covering every aspect of life on the frontier.
Challenges range from foraging for herbs, selling items at a Fence, hunting and skinning animals, clearing hideouts, finding treasures, winning Feuds and much more.
Pull up the Player Menu to see your 7 Daily Challenges that will rotate each day. Fulfilling challenges is optional, but completing each challenge will earn you Gold Nuggets and XP, and completing all 7 earns you a bonus reward.
Also, there are Daily Challenges Streak bonus rewards for completing at least one challenge for 7 days. And after completing a 28-day streak, the player is awarded with a one-time reward of a Treasure Map.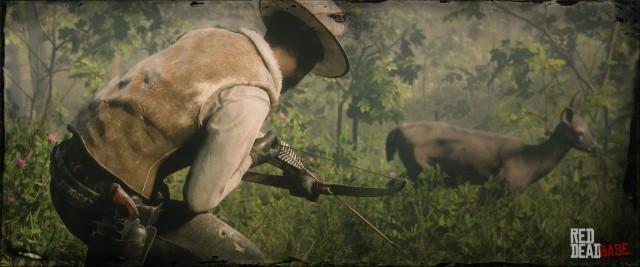 Posse Versus Challenges
Posse leaders can simply use the Player Menu to trigger intra-Posse competitions.
Posse Versus Challenges include:
Infighting: Compete with your Posse Members in a shootout
Team Infighting: Compete in teams with your Posse Members in a shootout
Posse Race: Race against your Posse Members to the finish line
Hunt the Leader: Survive against attacking rival players
Biggest Fish Contest: Compete with your Posse to catch the biggest fish
Bird Shooting Contest: Compete with your Posse to shoot the most flying birds
Herb Picking Contest: Compete with your Posse to gather the most plants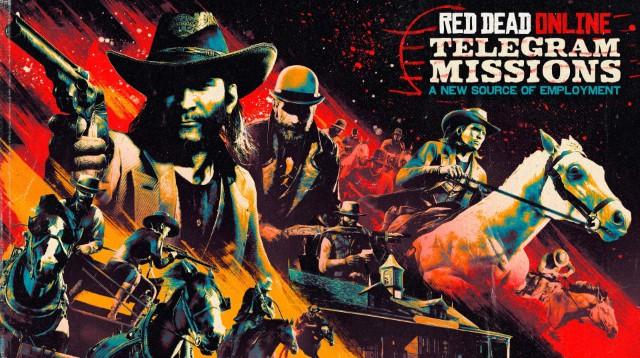 Telegram Missions
On February 16, 2021, three "A New Source of Employment" Missions have been added to Red Dead Online. These are solo missions launched through Telegrams collected from the Post Office or Camp Lockbox:
A One Horse Deal: Steal a White Arabian from Emerald Ranch
Rich Pickings: Steal Jewellery from the Saint Denis Mayor
Outrider: Deliver a wagon to Armadillo
Poker
After the May 14, 2019 Update, you can visit Poker Tables at towns and outposts across the map to challenge your friends to a private, invite-only game of Hold 'Em.
Or, raise the stakes and take a seat at a public table, where the buy-ins and rewards are even higher. All poker tables seat up to 6 players, available in 5 locations: Blackwater, St Denis, Tumbleweed, Smithfield and Flatneck Station.
See the full guide on how to play Poker in Red Dead Online.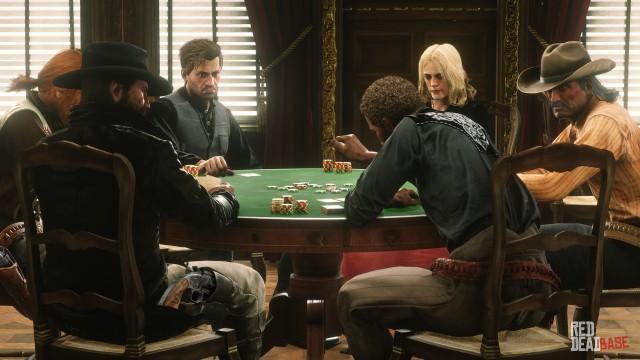 Dynamic Events
After the May 14, 2019 Update, as you make your way across the frontier, you may happen across townsfolk and travelers in need of assistance, or opportunists looking to prey on lone riders. Stay sharp and keep an eye out, many of these encounters offer XP, Honor, Cash and even Gold rewards.
Awards Challenges
As you play Red Dead Online, you can earn special Belt Buckles and XP by completing various Award Challenges. There are 12 categories:
Sharpshooter
Combat
Hunting
Survivalist
Crimes
Travel
Trade
General
Horse
Posse
Free Roam
Competitive
You can view the different Awards and their tiers and track your development through the Awards section of the Progress menu. There you can view Award sets and Pin individual awards to your Log using Triangle/Y.
Completing an Award will place a Belt Buckle into your Wardrobe for you to equip in order to show other players just how advanced you are. Certain Awards allow you to reset your progress in exchange for Gold Nuggets.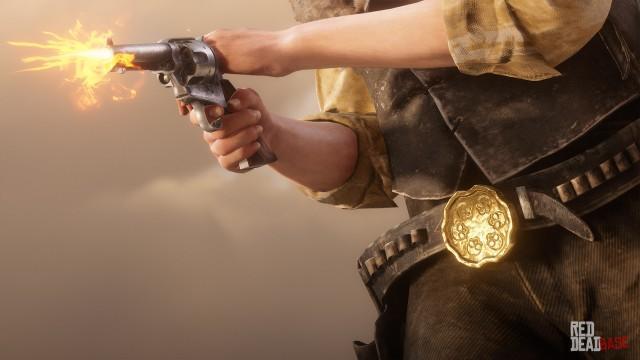 ---
For more useful Guides check out the complete Red Dead Online Guides & Features, as well as the Horses Database, Weapons Database, and everything else on Red Dead Redemption 2!