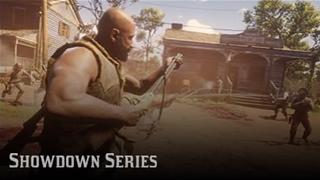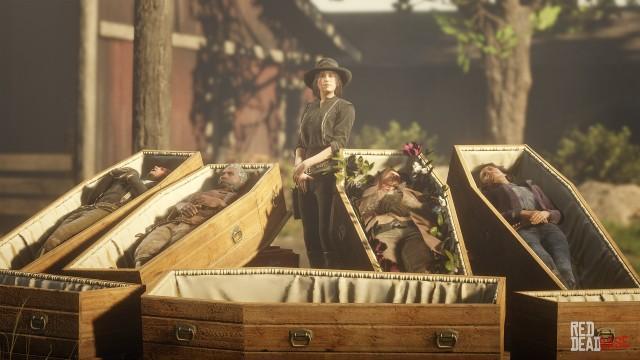 In addition to the vast amount of Free Roam activities found throughout the world of Red Dead Online, players can launch into various competitive team-based or free-for-all game modes such as Showdown Series and Races.
Showdown Series Playlists
Approaching a Series Marker in Free Roam will give you the option to start matchmaking into a Showdown Series. Here you can compete against others in varied and intense Game Modes.
As of June 18, 2019, a new Elimination Series Playlist is also available to compete in "Make It Count" or to take on "Gun Rush" in larger groups.
Series can be identified on the radar and Pause Map by their unique blips. Alternatively, launch the Series you want from the Quick Join section of the Player menu.
After entering a Series, you will begin matchmaking in Free Roam. When a match is made, you will be taken straight into the Lobby to wait for the game to begin. Here you can invite players to join you. If a Posse Leader joins a Series, the whole Posse will be brought with them automatically.
Showdown Modes List
Showdown Modes General Tips
Certain modes will allow you to customize your Weapon loadout before starting, so use your time in the pre-match lobby wisely and equip yourself using the menu on the left.
When in a shootout, use the combat dive (L2/LT and Square/X) to quickly throw yourself into cover or out of the firing line.
Try and take note of where red barrels and crates are on the map. These are explosive, making them a poor cover option, but great targets if you spot an enemy near one.
Browse each individual Showdown Mode for mode-specific tips to help you gain a competitive edge.
Races Series Playlists
Compete on horseback in a variety of different racing modes in Red Dead Online.
From the customary point-to-point and lap races across the map, to target shooting while riding in Target Races variations, with more to come.
Standard & Open Races
Point to point and lap races are a true test of your horse-riding skills. Start without any weapons or ammunition, then pick them up along the way to take down your competition.
If going off the beaten path is more your style, check out the Open Race where you will compete to be the first to ride through all the signal fires in any order you choose.
Target Races
Shoot targets while on horseback to pass checkpoints while racing to be first to finish. All players start out with a bow and arrow – as you race, each target you hit will increase your Horse's Stamina – but you can also take advantage of strategic pickups along the way.
In an Open Target Race, you compete in an open space to take out all targets then race to the finish. You're free to shoot targets in any order you wish, just keep an eye on how quickly your competition is knocking out targets and use the mini-map to know which target to hit next.
Red Dead Online Racing Tips
Tap X/A in time with your horse's gallop - this will use less stamina and keep your steed going at high speeds for longer periods of time.
Ride through Stamina pickups to extend your Horse's sprinting time or quickly recover from a drained Horse Stamina core.
If your horse runs out of stamina during a race, you can hold Triangle or Y to respawn with a full tank.
Weapons pickups dole out firearms with limited ammo supplies – use a shotgun blast to quickly and easily takeout a checkpoint target or turn that weapon against your competition.
In a Target Race, while players can lock-on to checkpoint targets, using weapons against other competitors will require proficiency with free-aim.
If you're trailing behind, ride in your competitor's slipstream to regenerate Horse Stamina quickly and gain a slight speed boost.
If you're defending a lead you can kick your competitors to reduce their Horse Stamina levels with a slight chance of being able to knock them down.
---
For more useful Guides check out the complete Red Dead Online Guides & Features, as well as the Horses Database, Weapons Database, and everything else on Red Dead Redemption 2!