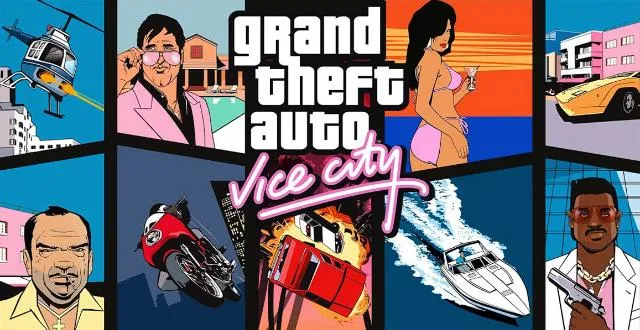 Game Info
Welcome to Vice City. Welcome to the 1980s.
Having just made it back onto the streets of Liberty City after a long stretch in maximum security, Tommy Vercetti is sent to Vice City by his old boss, Sonny Forelli. They were understandably nervous about his re-appearance in Liberty City, so a trip down south seemed like a good idea. But all does not go smoothly upon his arrival in the glamorous, hedonistic metropolis of Vice City. He's set up and is left with no money and no merchandise. Sonny wants his money back, but the biker gangs, Cuban gangsters, and corrupt politicians stand in his way. Most of Vice City seems to want Tommy dead. His only answer is to fight back and take over the city himself.
From the decade of big hair, excess, and pastel suits comes a story of one man's rise to the top of the criminal pile as Grand Theft Auto returns. Vice City is a huge urban sprawl ranging from the beach to the swamps and the glitz to the ghetto and is the most varied, complete, and alive digital city ever created. Combining non-linear gameplay with a character-driven narrative, you arrive in a town brimming with delights and degradation and are given the opportunity to take it over as you choose.
Vice City offers vehicles pleasures to suit every taste. As the party capital of America, you can expect your ears to be seduced by a host of sultry melodies and pumping beats, as the city is truly rocking. Developed by Rockstar North and published by Rockstar Games, Grand Theft Auto: Vice City is the most diverse and ambitious piece of interactive entertainment yet created.
GTA Vice City Database
GTA Vice City Guides
GTA Vice City Cheat Codes
GTA Vice City Media
Release Information
Game Releases

Release Date

October 27, 2002

Platforms

PlayStation 2

Release Date

May 12, 2003

Platforms

PC

Release Date

October 31, 2003

Platforms

Xbox

Release Date

November 12, 2010

Platforms

Mac OS

Release Date

December 6, 2012

Platforms

iOS (iPhone/iPad)

- Mobile Remaster (HD)

Release Date

December 12, 2012

Platforms

Android

- Mobile Remaster (HD)

Release Date

January 30, 2013

Platforms

PlayStation 3

- Upscaled PS2 Classic

Release Date

December 5, 2015

Platforms

PlayStation 4

- Upscaled PS2 Classic

Release Date

November 11, 2021

Platforms

PC

PlayStation 5

Xbox Series X|S

PlayStation 4

Xbox One

Nintendo Switch

- GTA: The Trilogy Definitive Edition

Publisher

Rockstar Games

Developer

Rockstar North

Universe / Era

3D Universe