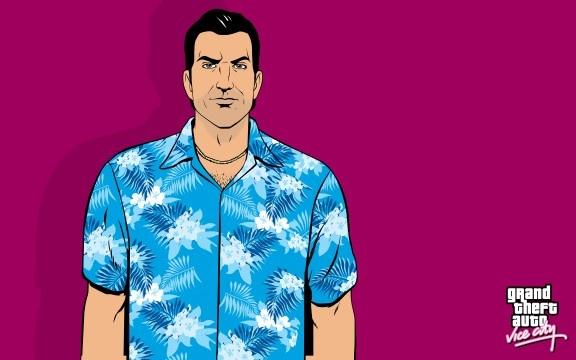 Tommy Vercetti is the protagonist and playable character of Grand Theft Auto: Vice City.
Tommy is a previous member of the Liberty City Mafia gang, the Forelli Family. In prior events, Tommy was sent to prison for killing 11 men that ambushed him.
Now, in 1986, Tommy is fresh out of prison and looking for work. He works with the Vance Brothers to execute a big drug deal but it all goes wrong, with the drugs and money lost.
Tommy, now out for revenge on those that wronged him, teams up with various people and groups from the Vice City criminal underworld and slowly begins to create his own gang and become one of the highest-ranking criminals in Vice City.
Tommy Vercetti: Character Info
Role

Main Protagonist

Gender

Male

Born In Year

1951 (35 years old in 1986)

Nationality

ItalyUnited States

Location

Ocean View Hotel; Vercetti Estate; Hyman Condo

Also Known As

Tommy; Tom; The Harwood Butcher; Mr. V; Mr. Teal; "Bad ass" Vercetti; Suit dude

Performer / Actor

Ray Liotta

Affiliation

Auntie PouletAvery CarringtonBJ SmithDorisEarnest KellyForelli Crime FamilyJuan CortezKen RosenbergKent PaulLance VanceMercedes CortezMitch BakerPhil CassidyRicardo DiazSonny ForelliSteve ScottUmberto RobinaVercetti Crime Family

Property / Safehouse

Ocean View HotelVercetti EstateHyman Condo

Vehicles

AdmiralAngelDeluxoHotring RacerInfernusMaverickSabre TurboSandkingSea SparrowSentinelSpeederStretch
Tommy Vercetti: Appearances
Tommy Vercetti Missions in GTA Vice City:
Tommy Vercetti Screenshots
Tommy Vercetti Artworks