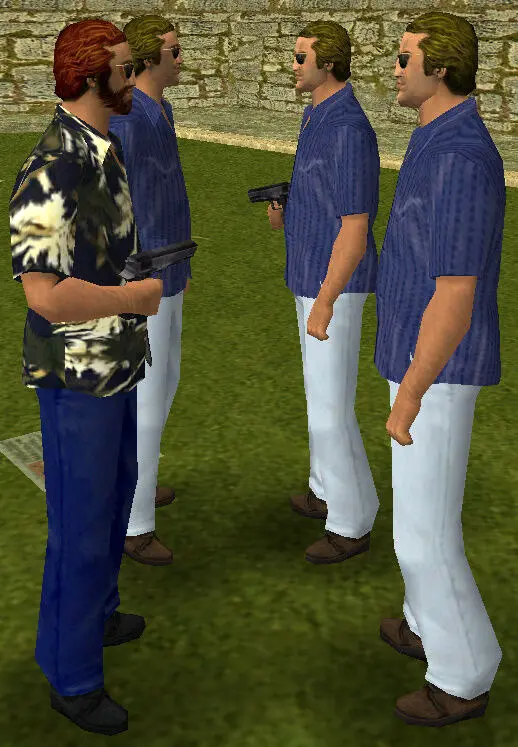 The Vercetti Crime Family is a Gang featured in Grand Theft Auto: Vice City.
The Vercetti Gang is a powerful criminal organization led by Tommy Vercetti. The group was formed as a splinter of the Forelli Family, after Vercetti was forced to start over with no money or property following a failed drug deal, ambushed by the Diaz Cartel.
During the events of Grand Theft Auto: Vice City, Vercetti receives ownership of Diaz's mansion on Starfish Island, using it as a main base of operations, while also acquiring various properties and businesses in the city, expanding the gang's influence across Vice City.
Members of the Vercetti gang are friendly towards the protagonist and can be seen wearing blue shirts and jeans. They are the only gang in normal gameplay to use any firearm other than a pistol, receiving Uzis after the completion of "Keep your Friends Close..."
Vercetti Crime Family: GTA Vice City Info
Group Type

Gang

Faction Type

Italian-American Crime Syndicate

Nationality

Italy

Location

Starfish Island; Prawn Island; Little Haiti; Little Havana; Viceport

Occupation

Armed Robbery; Protection; Drug trade and trafficking; Prostitution; Extortion; Auto-theft; Counterfeiting; Money laundering; Racketeering; Loansharking; Gun-Running; Smuggling; Illegal Gambling; Bookmaking; Hijacking; Contract killing;

Also Known As

Vercetti Gang

Gang Colors

Blue

Front Companies

Vercetti Estate; Kaufman Cabs; Boatyard; Malibu Club; Pole Position Club; InterGlobal Films; Print Works; Sunshine Autos; Cherry Popper Ice Cream Factory; Phil's Place;

Affiliation

CubansDiaz's GangHaitiansVice City Bikers

Weapons

Pistol (Colt .45)Tec-9Uzi 9mm
Notes

The gang is never formally named in-game, the "Vercetti Gang" name is only heard from Doris after purchasing the Kaufman Cabs company..
Vercetti Crime Family: Appearances
Appearances in Story Missions: