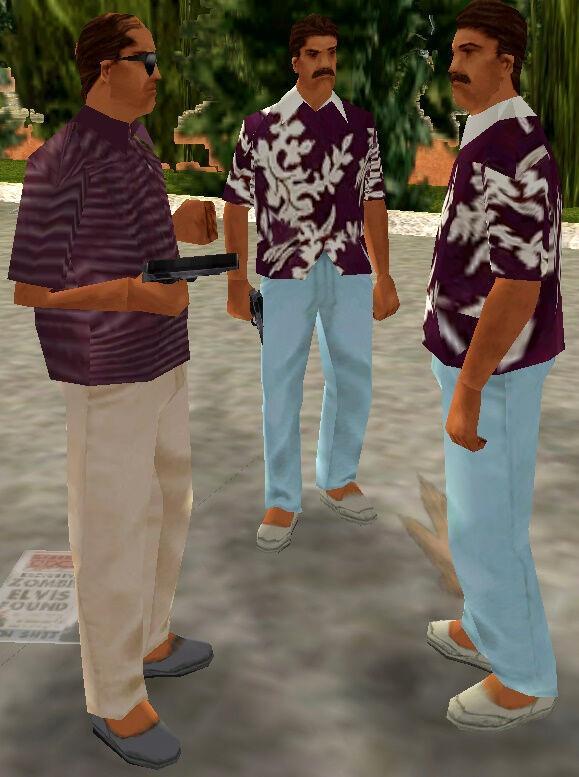 Diaz's Gang is a Gang featured in Grand Theft Auto: Vice City.
Around 1984, the Diaz Cartel was the dominant drug cartel in Vice City, Ricardo's aggressive interest in staying on top of the business being a defining factor.
Seeing drug deals that didn't involve his gang as a threat, Diaz ambushed a drug deal between the Forelli Crime Family and the Vance Brothers. The survivers of the ambush, namely Tommy Vercetti, Ken Rosenberg and Lance Vance would become the downfall of the Diaz Crime Syndicate.
After Ricardo Diaz was taken out by Lance Vance and Tommy Vercetti, the Diaz Syndicate would dissolve, and his mansion would become the front of Tommy Vercetti's gang operations.
Diaz's Gang: GTA Vice City Info
Group Type

Gang

Faction Type

Drug Cartel

Nationality

Colombia

Location

Diaz's Mansion, Starfish Island

Occupation

Drug Trade; Protection Racket

Also Known As

Diaz Cartel

Front Companies

Diaz's Mansion

Members

Ricardo Diaz Mike

Weapons

Pistol (Colt .45) Uzi 9mm

Based on (Real Life)

Diaz Cartel in the movie Scarface
Diaz's Gang: Appearances
Appearances in Story Missions: