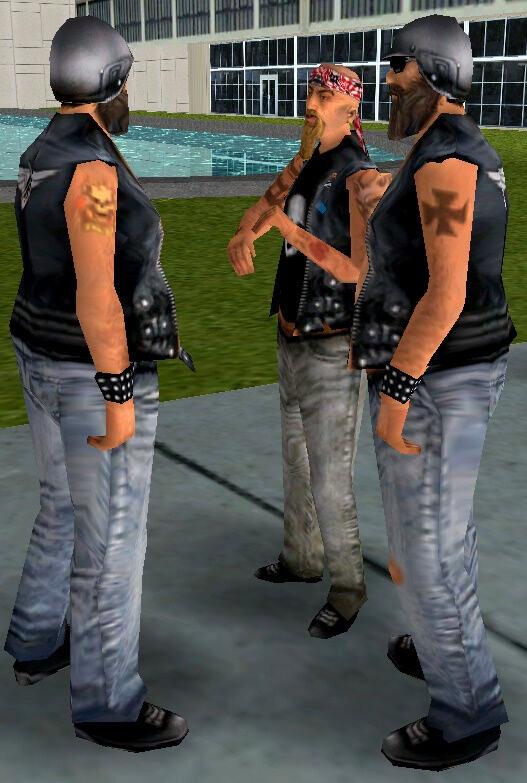 The Vice City Bikers are a Gang featured in Grand Theft Auto: Vice City.
The Vice City Bikers motorcycle club is the "biggest family of misfits, outcasts and badasses" as quoted by their leader, "Big" Mitch Baker. They are a group of stereotypical bikers, who are seen wearing leather, with long beards and hair and wearing bike attire.
Tommy opens relations with the bikers in order to provide protection for Love Fist at a concert. Baker agrees only after giving Tommy some tasks to complete.
Vice City Bikers: GTA Vice City Info
Group Type

Gang

Faction Type

Outlaw Motorcycle Club

Nationality

United States

Location

Downtown Vice City

Occupation

Protection racket; Loan sharking; Prostitution; Smuggling; Drugs; Robbery

Gang Colors

Black; Gray

Front Companies

Moist Palms Hotel, Downtown Vice City; The Greasy Chopper; Pole Postion Club; Malibu Club

Members

Mitch BakerCougarZeppelin

Affiliation

Love FistVercetti Crime Family

Weapons

MP / MP5Pistol (Colt .45)

Based on (Real Life)

Hells Angels motorcycle club
Vice City Bikers: Appearances
Appearances in Story Missions: