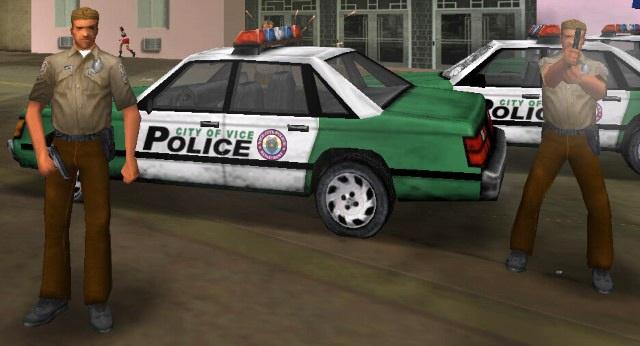 The Vice City Police Department (VCPD) is a government organization featured in Grand Theft Auto: Vice City.
The Vice City Police Department is the Police Force watching over Vice City's districts in Grand Theft Auto VC.
The VCPD's vehicle of choice is the "Police", a generic squad car, but they can also use Enforcers, Mavericks and Predators for advanced pursuits. Their standard weapon is the pistol, but can also carry different weapons, like shotguns and nightsticks.
Police officers wear uniforms consisting of a tan shirt with brown trousers.
This Law Enforcement Agency also appears in Grand Theft Auto V, Grand Theft Auto IV, GTA San Andreas and Grand Theft Auto III.
Vice City Police Department (VCPD): GTA Vice City Info
Group Type

Law Enforcement Agency

Faction Type

Police Force

Nationality

United States

Location

Little Havana Police Station; Downtown Police Station; Vice Point Police Station; Washington Beach Police Station

Also Known As

VCPD
Vice City Police Department (VCPD): Appearances