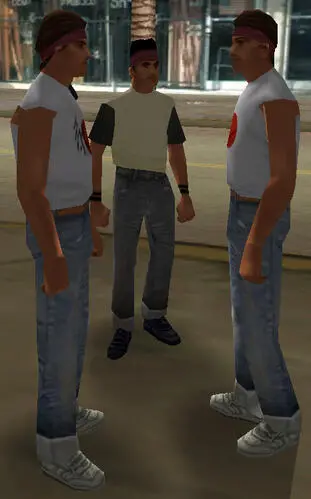 The Cubans are a Gang featured in Grand Theft Auto: Vice City.
The Cubans, also knows as Los Cabrones are a Latin street gang led by Umberto Robina. The gang is based in Little Havana and is considered the prominent gang in the south end of the Vice City Mainland.
During the events of Vice City, the Cubans are in a war with the Haitians. Umberto Robina employs Tommy Vercetti who will complete several tasks for the gang.
Vercetti is, however, also forced to do some tasks for the Haitians for the troubles he's created, but finally ends the war between the two gangs by destroying a Haitian drug factory.
Cuban gang members can be seen wearing white sleeveless shirts, red bandanas and jeans. They wield 9mm pistols to defend themselves on the street.
Cubans: GTA Vice City Info
Group Type

Gang

Faction Type

Cuban-American Street Gang

Nationality

CubaUnited States

Location

Little Havana

Occupation

Cocaine Trade

Also Known As

Los Cabrones

Front Companies

Café Robina, Little Havana

Affiliation

Lance VanceVercetti Crime Family

Based on (Real Life)

Marielitios
Cubans: Appearances
Appearances in Story Missions: