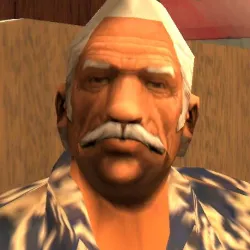 Alberto Robina appears as a Minor Character in GTA Vice City.
Alberto is the father of Umberto Robina.
He works at the Café Robina. Just like Umberto, he is rather fond of Tommy for all he has done for the Cubans.
The character of Alberto Robina also appears in GTA Vice City Stories.
Alberto Robina: Character Info
Role

Minor Character

Gender

Male

Nationality

Cuba

Location

Little Havan

Occupation

Café Robina

Family

Affiliation

CubansTommy VercettiUmberto RobinaVictor Vance
Alberto Robina: Appearances