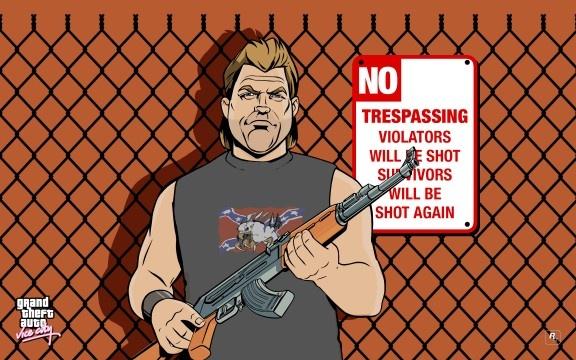 Phil Cassidy appears as a Supporting Character in GTA Vice City.
Phil is an arms dealer and gun enthusiast.
Phil helps Tommy out during a bank robbery and the two form a strong friendship.
Phil's mobile home is accessible throughout the game and has plenty of guns and ammunition for Tommy to stock up on.
Phil Cassidy: Character Info
Role

Supporting Character

Gender

Male

Nationality

United States

Location

Little Haiti

Also Known As

The Shootist; One-Armed Phil; Phil the One-Armed Bandit

Performer / Actor

Gary Busey

Occupation

Phil's Place

Affiliation

Tommy Vercetti Umberto Robina

Property / Safehouse

Phil's Place
Phil Cassidy: Appearances
Phil Cassidy Missions in GTA Vice City:

Appearances in Story Missions:

Appearances in Other Games
Phil Cassidy Artworks