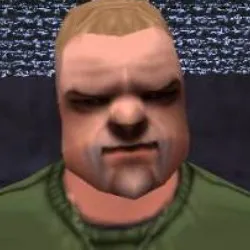 Phil Cassidy appears as a Minor Character in Grand Theft Auto III.
Phil is the owner of Phil's Army Surplus.
He is missing an arm and tells Claude he lost it in Nicaragua.
The character of Phil Cassidy also appears in GTA Vice City, GTA Vice City Stories and GTA Liberty City Stories.
Phil Cassidy: Character Info
Role

Minor Character

Gender

Male

Nationality

United States

Location

Rockford, Liberty City

Occupation

Arms Dealer

Also Known As

The Shootist; One-Armed Phil; Phil the One-Armed Bandit

Performer / Actor

Hunter Platin

Affiliation

Ray Machowski

Vehicles

Barracks OLPatriotPerennial
Phil Cassidy: Appearances
Appearances in Story Missions: