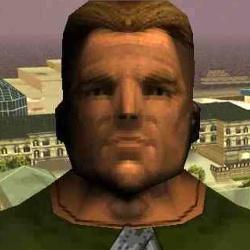 Phil Cassidy appears as a Minor Character in GTA Liberty City Stories.
In GTA Liberty City, Phil is the owner of Phil Cassidy's Fully Cocked Gun Shop, located in Bedford Point on Staunton Island.
He makes a short appearance during the mission "More Deadly Than the Male" as Toshiko Kasen's gun dealer.
The character of Phil Cassidy also appears in GTA Vice City, Grand Theft Auto III and GTA Vice City Stories.
Phil Cassidy: Character Info
Role

Minor Character

Gender

Male

Nationality

United States

Location

Bedford Point, Staunton Island

Occupation

Arms Dealer

Also Known As

The Shootist; One-Armed Phil; Phil the One-Armed Bandit

Performer / Actor

Hunter Platin

Affiliation

Toshiko Kasen

Vehicles

Barracks OL Patriot Perennial
Phil Cassidy: Appearances
Appearances in Story Missions: