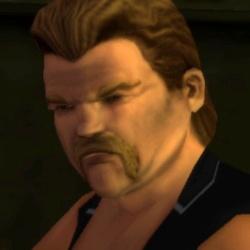 Phil Cassidy appears as a Major Character in GTA Vice City Stories.
Phil Cassidy is a weapon's dealer, helped by Vic on several occasions on orders of Jerry Martinez.
He is the brother of Louise Cassidy-Williams and is seen to be a heavy drinker, and also distils "boomshine", a highly explosive and alcoholic mixture.
The character of Phil Cassidy also appears in GTA Vice City, Grand Theft Auto III and GTA Liberty City Stories.
Phil Cassidy: Character Info
Role

Major Character

Gender

Male

Nationality

United States

Location

Vice City

Occupation

Phil's Depot

Also Known As

The Shootist

Performer / Actor

Gary Busey

Family

Vehicles

Barracks OLPatriotPerennialWalton
Notes

Weapons: M249; Molotovs; Pistol
Phil Cassidy: Appearances
Phil Cassidy Missions in GTA Vice City Stories:

Appearances in Story Missions: