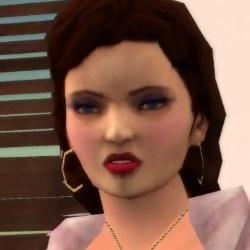 Louise Cassidy-Williams appears as a Major Character in GTA Vice City Stories.
Louise Cassidy-Williams is the sister of Phil Cassidy and the wife of Marty-Jay Williams, leader of the Trailer Park Mafia.
Her relationship with Marty is increasingly rocky, the latter being an abusive husband and father - she eventually leaves her home and goes to live with her sister, Mary-Jo. Marty attempts to kidnap her but is ultimately killed by Victor Vance, who grows a romantic interest towards Louise.
After her husband's death, Louise acts as a business partner to Victor and aids him in building his Crime Empire.
Towards the end of the game, Louise is kidnapped and killed by Martinez and the Mendez brothers. In revenge, Victor and Phil Cassidy steal an army helicopter and take out the Mendez brothers and Jerry Martinez.
Louise Cassidy-Williams: Character Info
Role

Major Character

Gender

Female

Nationality

United States

Location

Trailer in Little Havana, Vice City; Apartment in Little Havana, Vice City

Performer / Actor

Chelsey Rives

Family

Vehicles

Quad
Louise Cassidy-Williams: Appearances
Louise Cassidy-Williams Missions in GTA Vice City Stories:

Appearances in Story Missions: