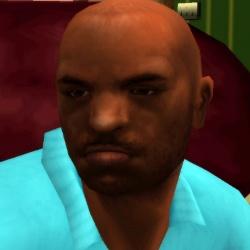 Victor Vance is the protagonist and playable character in Grand Theft Auto: Vice City Stories.
A former soldier looking to earn money to aid his dysfunctional family, he was convinced by his superior, Jerry Martinez, to get involved into the drug dealing business.
After being kicked out of the army by Martinez, who betrays him, Vic begins building his own Crime Empire and founds the Vance Crime Family alongside his brother, Lance Vance and his girlfriend, Louise Cassidy-Williams.
He eventually enters a conflict with the Mendez Cartel, but manages to wipe them out, before deciding to retire from the criminal life and leave Vice City with Lance. He is seen once again after 2 years, at the beginning of the events of Grand Theft Auto: Vice City, when he is killed following an ambushed drug deal with Tommy Vercetti.
Victor is a tough and strict person, usually more rational than his easy-going brother, Lance. Despite being a cold man towards his enemies, he shows care and love for the people close to him, such as his friends and family. Although he is involved in the drug dealing business, he is known to dislike them, and never uses them recreationally.
Victor Vance: Character Info
Role

Main Protagonist

Gender

Male

Nationality

Dominican RepublicUnited States

Location

Vice City

Occupation

Protection Racket; Prostitution; Loan Sharking; Drug Trade; Armed Robbery

Also Known As

Vic; Vince; Supplier; Vicky Boy; Saint Victor of Vance; Mr. Big-Shot; Corporal Vance; Army boy

Performer / Actor

Dorian Missick

Family

Vehicles

Infernus Polaris V8 Stinger Streetfighter
Notes

Weapons: Pistol; M16; AK-47; Shotgun; Micro SMG; M249; Katana.
Victor Vance: Appearances