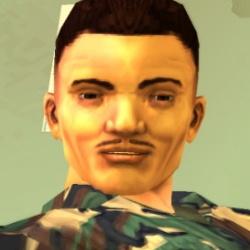 Jerry Martinez appears as a Major Character and Antagonist in GTA Vice City Stories.
Jerry Martinez is one of the Officers at Fort Baxter Air Base and is initially the NCO of Victor Vance.
Jerry does not take his position seriously, and is a corrupt officer, being involved in drug dealing and prostitution. While Victor is in the army, Jerry asks him several times to deliver drugs or pick up prostitutes for him, and later on calls an ambush on Victor and Phil Cassidy.
Seeking revenge, Victor later steals a shipment of cocaine intended for Jerry and, at the end of the storyline, kills him for his actions and betrayals.
Jerry Martinez: Character Info
Gender

Male

Nationality

MexicoUnited States

Location

Vice City

Occupation

Drug Dealing; Officer at the Fort Baxter Air Base

Also Known As

Sven Johansson

Performer / Actor

Felix Solis

Vehicles

Streetfighter
Notes

Weapon: Assault Rifle
Jerry Martinez: Appearances
Jerry Martinez Missions in GTA Vice City Stories:

Appearances in Story Missions: