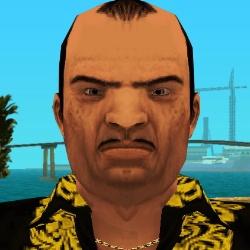 Ricardo Diaz appears as a Major Character in GTA Vice City Stories.
Ricardo Diaz is the leader of his own drug cartel. He employs Victor and Lance Vance for several jobs, before blackmailing Gonzalez into revealing information about his boss', Colonel Juan Cortez, drug shipments.
He lends money to the Vance brothers and has them perform more work in order to repay the debt, the last task being to take down the Mendez Compound, helping Diaz establish himself as Vice City's drug lord.
The character of Ricardo Diaz also appears in GTA Vice City.
Ricardo Diaz: Character Info
Notes

Weapons: Uzi; MP5; Shotgun; Equalizer.
Ricardo Diaz: Appearances
Ricardo Diaz Missions in GTA Vice City Stories:

Appearances in Story Missions: