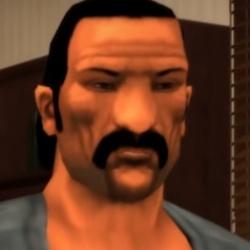 Umberto Robina appears as a Major Character in GTA Vice City Stories.
Umberto is the leader of the Cubans, and is the son of Alberto Robina.
Umberto employs Victor Vance for gang-related jobs, and despite initially being doubtful of his abilities, grows to admire him, the two becoming friends.
The character of Umberto Robina also appears in GTA Vice City.
Towards the end of the storyline, Umberto repays Victor's offers by helping him defend his businesses when the Vance Family is attacked by the Mendez Cartel.
Umberto Robina: Character Info
Role

Major Character

Gender

Male

Nationality

Cuba

Location

House, Little Havana, Vice City

Occupation

Café Robina

Performer / Actor

Danny Trejo

Family

Vehicles

Cuban HermesHermes
Umberto Robina: Appearances
Umberto Robina Missions in GTA Vice City Stories:

Appearances in Story Missions: