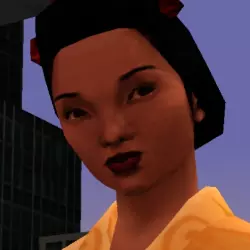 Toshiko Kasen appears as a Major Character in GTA Liberty City Stories.
Toshiko Kasen is the wife of Yakuza leader Kazuki Kasen. She was born in Japan, but moved to Liberty City and married Kazuki, who later became the leader of Yakuza.
She feels neglected by her husband, so she employs Toni Cipriani, member of the Leone Family, to ruin and humiliate her husband. She pays Toni for tasks such as destroying a Yakuza tank, stealing a Yakuza munitions delivery or destroying money being moved by the Yakuza.
Lastly, she asks Toni to kill her husband, which he does in a Katana fight.
Now having been freed of Kazuki, and wishing for ultimate freedom, Toshiko commits suicide by jumping out of her apartment window.
Toshiko Kasen: Character Info
Role

Major Character

Gender

Female

Nationality

Japan

Location

Apartment in Torrington, Staunton Island, Liberty City

Also Known As

Toshi

Performer / Actor

Hana Moon

Family

Affiliation

Toni Cipriani

Vehicles

Stretch
Toshiko Kasen: Appearances
Toshiko Kasen Missions in GTA Liberty City Stories: