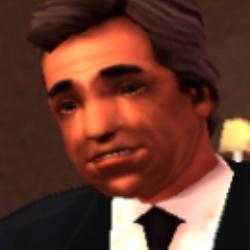 Miles O'Donovan appears as a Major Character in GTA Liberty City Stories.
Miles O'Donovan is the Mayor of Liberty City, elected after the death of Roger C. Hole.
Following his election, O'Donovan collaborates with Paulie Sindacco and has Salvatore Leone arrested. Leone, concluding that the Sindacco Family was responsible for the attack, tasks Toni with killing Sindacco leader Paulie.
He is later kidnapped by Sicilian Mafia member Massimo Torini, but rescued by Salvatore and Toni and then coerced into dropping the remaining charges against Salvatore Leone.
Miles O'Donovan: Character Info
Role

Major Character

Gender

Male

Nationality

United States

Location

Liberty City

Occupation

Donovan Hardware; Mayor of Liberty City

Performer / Actor

John Braden

Affiliation

Massimo ToriniSalvatore LeoneToni Cipriani
Miles O'Donovan: Appearances
Appearances in Story Missions: